Carbery Group Annual Results for 2022 released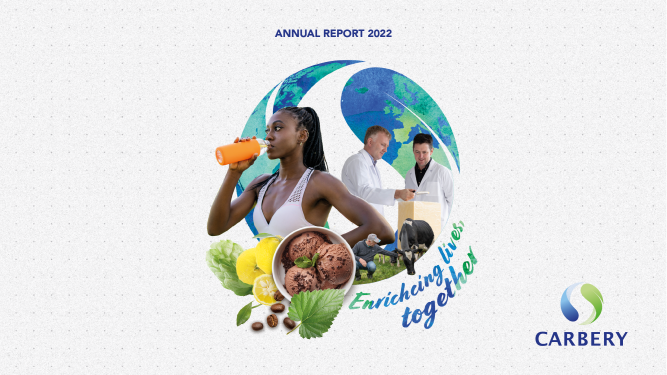 Record market performance saw revenue growth of 31% from 2021, or from €535m in 2021 to €700.8m in 2022.
Introduced sustainability bonus for suppliers, Futureproof, which saw €3m paid to farmers in 2022 and a 95% uptake. This will increase to a potential €6m (equivalent to 1cpl), for participating farmers in 2023.
Achieved significant reductions in climate footprint globally across the key environmental areas of carbon emissions (-5.5%) water use (-8.4%) and waste to landfill (-44.7%).
The company set aside €10m in a Stability Fund to support farmer shareholders through future challenges.
Continued to invest across the Group, including developing a Visitor Centre as part of Farm Zero C climate neutral farm project and a new savoury innovation centre in the US, to support acquisition of savoury flavour company in 2021.
Held a successful Open Week in October 2022 for all farmer shareholders, partners and local community with over 3,000 visitors through the Ballineen facility.
Won Company of the Year in the Cork Chamber of Commerce annual business awards.
Carbery Group, the West Cork based international ingredients, flavours, and award-winning cheese producer, has reported a positive financial performance for the year ended 31 December 2022. Overall, group turnover increased by 31% to just under €700.8m.
Group turnover increased by 31% to €700.8m, while on a constant currency basis turnover increased by 27% year-on-year. Group EBITDA (Earnings before interest, tax, depreciation (net of grants), amortisation of goodwill and other intangibles and exceptional items) increased by 4% to €52.1m (2021: €50.1m).
On a constant currency basis EBITDA decreased by 4%. Group EBITA (Operating Profit before interest, tax, amortisation of goodwill and other intangibles and exceptional items) increased to €32.8m (2021: €31.2m) reflecting a year-on-year increase of 5%. On a constant currency basis EBITA decreased by 6%. EBITDA and EBITA figures for 2022 are calculated after €10m was allocated to the Stability Fund for shareholders and €3m was paid out to supplier shareholders under the FutureProof sustainability bonus.
CEO Jason Hawkins commented "We are pleased to be able to report to our shareholders a successful year for Carbery. This is in the form of revenue and business performance, which saw record returns from markets for our products, but balanced with very high input costs for Carbery and for our farmer shareholders. What I judge to be more important is that we managed this situation to build for our future. Introducing Futureproof, our sustainability bonus for our suppliers, supporting shareholders on fixed milk contracts, and setting aside €10m for our Sustainability Fund to support milk price challenges through 2023. These are forward-looking initiatives designed to ensure a stable future for our shareholders."
Milk volumes at the Carbery Ballineen plant decreased to 598m litres (-2% from 2021), all processed in West Cork.
Carbery Chairman Cormac O'Keeffe said "2022 was a banner year for milk prices, and we were happy to be able to deliver these in line with shareholder expectations. Equally important for myself and the Board was our commitment to preparing for the future. With Futureproof, our sustainability bonus, we are providing tangible financial support from the company to support farmers in adopting more sustainable and efficient practices. We are proud to be supporting our farmers shareholders through a difficult period for farming.
He continued, "there is a lot to be hopeful for within the sector. We know our climate targets, we know what we need to achieve and through Farm Zero C and other projects we are pioneering science-based innovations that will help us to reach these targets."
Sustainability central to growth objectives
Sustainability, central from the beginnings of the company as a dairy co-operative in the 1960s, continues to be the foundation underpinning how Carbery operates. As well as prioritising environmental sustainability, Carbery's sustainability strategy also covers community, marketplace, supply chain and people. This in recognition of the principle that to be truly sustainable, a company must consider their impact on the planet, but also on the communities and society in which they operate.
The Group is pleased to report further progress towards its sustainability ambitions. Greenhouse gas emissions reduced across all global sites by 5.5%, due to a reduction in energy use and a temporary change in energy source. Water usage across the Group reduced by 8.4%, due to a longstanding and ambitious program of water reduction across the Group. Production GHG intensity is down by 17.7%, despite production increases. Waste to landfill reduced by 44.7% due to a focus on waste management and a redirection of waste arising from landfill into waste-to-energy.
Carbery's target is to have net zero emissions across all manufacturing sites by 2035. In tandem with reducing Scope 1 and 2 emissions, they are now making major efforts to reduce Scope 3 emissions across the Group, especially at farm level. To decarbonise manufacturing sites, Carbery will have to source sustainable renewable energy and this is a key priority for the Group.
Taste (Synergy Flavours) Analysis
Carbery's Flavours Division, Synergy, again had a strong performance in 2022, against a challenging backdrop. Global disruptions caused by the war in Ukraine, soaring energy prices and the pandemic have brought a new dimension of complexity to manage in terms of supply chain and inflation. Synergy has worked closely with customers to support them during a difficult inflationary environment and uncertain market conditions.
Looking ahead
This year (2023) will see the development of the next strategy for Carbery Group, as it looks to medium and long term horizons to plan for the future. Commenting on this Jason Hawkins explained "In 2022, the company collectively agreed on a new purpose – Enriching Lives, Together, which will be brought to life in 2023 and unite the team to deliver on the ambition of our new strategy. This purpose encompasses our impact on our customers, but also with our shareholders, employees, suppliers, partners and our wider communities. We are always close to our co-operative roots, and so we are focused on making our collective impact a positive one, and a meaningful one."
ENDS
The report is available to dowload at: https://www.carbery.com/about/our-business/2022-annual-report/
For more information, please contact:
Louise Kelly, Communications Manager, Carbery Group
louisekelly@carbery.com or +353 83 888 5995
company news