Missed IFT? Synergy's trend watch has you covered!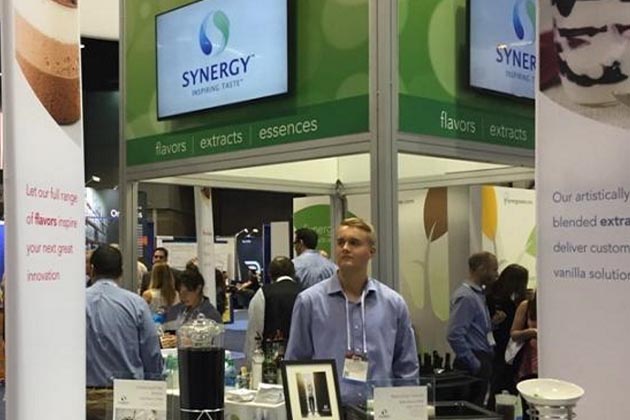 Weren't able to make it to this year's IFT? Not to worry, there's always next year! Plus – we've got you covered with some of the key trends and highlights you might have missed – including free cocktails on the Synergy Flavours stand!
So what were the standout trends?
Cold brew coffee
For the past couple of years, it seems you can scarcely move for cold brew. This rather unique beverage has become almost symbolic of the entire millennial generation.
With so much noise, it came as no surprise to see that cold brew had made its way to this year's exhibition hall, with a handful of stands (Synergy Flavours included) making cold brew their centrepiece.
But with so much competition, the real challenge lay in creating a point of difference to stand out. For Synergy Flavours it was authentic tasting, single source Brazilian coffee beans tying into the upcoming Olympic Games (more on that later).
For others, it was flavourings, such as an Indian spiced cold brew coffee on offer elsewhere at the exhibition.
But the cold brew trend is not just limited to coffee shops and exhibition halls – the trend has really come to a head in the past two years. In 2015, New Product Development (NPD) numbers were up 79% on 2014, and with five months left of 2016, this year has already seen 38% more launches worldwide.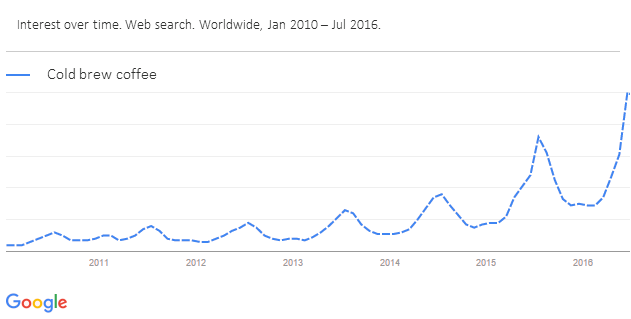 This rapid growth has been driven by a growing consumer buzz particularly online where the number of monthly Google searches has risen five-fold in around three years.
Whilst the cold brew coffee trend shows no sign of abating, as more and more products come to market, brands will find they are increasingly under pressure to add a point of difference, be that flavour, added functionality or even finding the next big thing – such as the Japanese method for brewing iced coffee, or even nitro coffee.
Fibre
The rise of fibre can be closely linked to the broadening of the nutrition market into weight wellness and a more holistic approach to diet.
Protein has been at the forefront of health food ingredients for a number of years, and whilst protein was far from absent at IFT, fibre felt even more prominent, with several stands giving top billing to the often overlooked nutrient.
As nutrition has become more mainstream, consumers have started to look for products which perform functions beyond muscle building. In fact, fibre has been viewed by consumers for a number of years as having a positive impact on diet and overall wellbeing. A study from University College, Cork's department of food and business development, found that fibre was one of very few nutrients which were positively received by all age ranges, with many taking part in the study associating fibre with a low Glycaemic Index (GI) diet.
As with cold brew, fibre's prevalence at IFT is driven by market trends, and in particular the North American market. Here, Mintel registered a 25% increase in 'source of dietary fibre' claims which now account for 4% of launches across all food categories.
The Synergy Stand
With the Rio Olympics just round the corner, this year's Synergy Flavours stand had a real carnival atmosphere to it.
Whilst Australia's accommodation at the Olympic Village may still be unfinished, there is no such excuse for lack of preparation amongst our customers.
Throughout the exhibition, we showcased a number of flavours which perfectly captured the Brazilian theme which has dominated NPD since before the World Cup in 2014. One trip to the Synergy Flavours stand was more than enough to get visitors in the mood for the upcoming games.
In keeping with the theme, the star product of the stand was without doubt the Synergy Pure™ Brazilian Cold Brew coffee which was officially launched at the exhibition.
Synergy Pure™ Brazilian Cold Brew coffee retains the low acidity level of ordinary cold brew coffees, whilst also boasting a nutty sweet flavour with a chocolaty roast taste. The new extract also works perfectly in a number of applications including iced coffee, protein power bites, coffee cream liqueur and even ice cream.
Day two was the busiest day at the exhibition and the busiest day on the Synergy Flavours stand, with our Rio inspired cocktail party stirring up a storm. Visitors enjoyed a spiked seltzer cucumber caipirinha (lime extract and Synergy Pure™ cucumber essence) and a strawberry passionfruit cocktail (strawberry and passionfruit flavours) served up by our expert applications team.
Along with the cocktails and coffee, we also showcased a number of other applications including:
Matcha green tea latte
Mini protein doughnuts:

Dulce de leche
Banana
Strawberry shortcake
Orange guava

Blackcurrant pre-workout containing branch chain amino acids (BCAA)
Hibiscus acai herbal tea
So what about next year?
No doubt these trends will be amplified next year. As more people enter the cold brew coffee market we expect to see an even greater number of offerings at future exhibitions, with manufacturers doing even more to stand out from the competition.
As the 'cold brew arms race' hots up, we also expect to see more exciting flavour combinations too, which will make for some interesting tasting sessions!
IFT has set the standard pretty high, so whatever is on offer in Las Vegas – it's going to take something special to top this!
Synergy will be exhibiting at both Supply Side West in Las Vegas and Health Ingredients Europe in Frankfurt later on in the year.
company news