Butter – concerned about recipe costs? We have the solution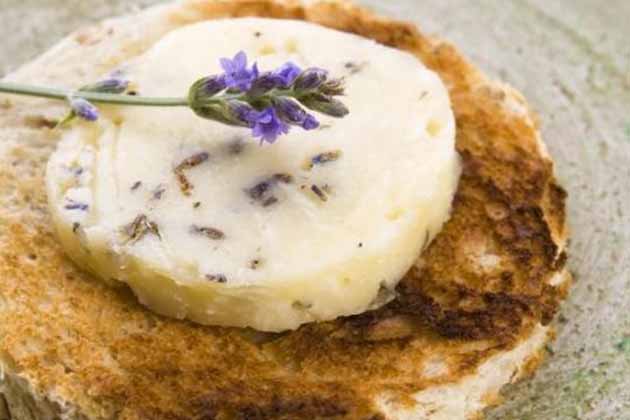 Butter has certainly grabbed the headlines in terms of price volatility with the chief executive of Arla going so far as to warn that this could translate into a butter shortage by Christmas.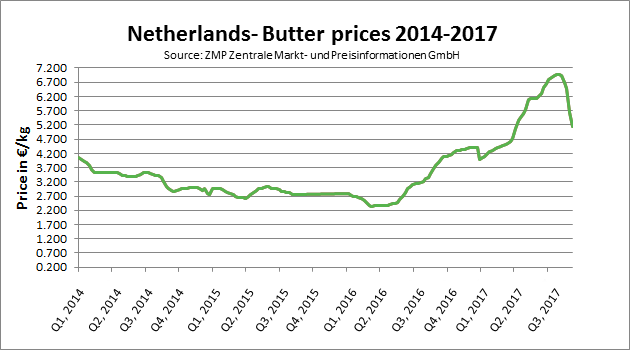 Peaking in the middle of 2014 butter prices entered a period of decline through to 2016. Picking up in March 16, but with no volume to support, prices quickly took pace with an incredible €1200/tonne movement being seen in a 12 week period (€2.80-€4.00/Kg June- Sept).
Perceived stability during Feb/Mar 17 was soon dismissed in April. One would have thought with peak milk supplies being available there would be more cream and butter, but that was quickly quashed. Farmer sentiment against extra milk in the system and a cooler spring on the continent came at a pivotal point in time.
The following months saw butter prices rally beyond expectation to the point where in September prices reached a record high. Increased producer prices have stimulated milk production in the EU and at the time of writing market commentary is of butter futures being pushed below €4.00/kg in 2018. Whether this a sign of market stabilization? Only time will tell.
The coming weeks will see tough retail negotiations taking place and no doubt continued uncertainty in the market place. And yet what we can be certain of is shopper's willingness to spend more for a product which is deemed less processed and more 'natural'.
Factors influencing butter shortage
Essentially, there has been a perfect storm of events across the globe in the past three years, which were summarised in a July report, by analysts from the Financial Times, who published an in-depth analysis of the causes of the butter and dairy shortage.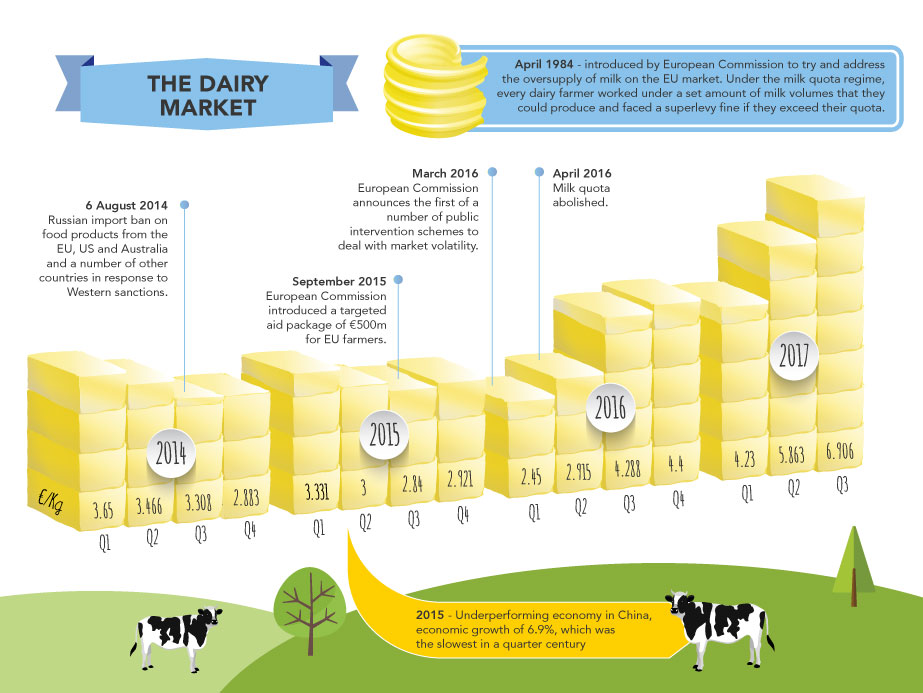 The challenges currently facing the market, particularly in terms of volatility can be traced back to 2015, with the abolition of milk quotas in Europe. The resulting milk supply, coupled with increased production in the US and New Zealand saw an oversupply of milk on the world market. Furthermore, the Russian embargo on food imports and the underperformance of China's economy depressed world markets.
The increase in milk production led to a surge in skim milk powder and butter production, driving prices down and causing difficulty for farmers as they struggled to compete with low dairy prices. With increased usage in the following 24 months demand soon outstripped supply and 2017 saw an unprecedented period of market volatility.
Now, growing consumer demand has helped European butter prices to see sustained growth, with EU butter prices peaking at €6.98 in September 2017. YTD (January-October) prices were at an average of €5.32 -over 63% higher than the full year 2016 (€3.25/kg). (Data: ZuivelNL).
Consumer preference for butter cannot be overlooked
Factors surrounding butter demand are multifaceted. Today a greater proportion of supply is getting used before the churn particularly by bakery and ice-cream producers.
Consumer attitudes to butter and other yellow fats have changed significantly in recent years- fats are no longer the villains they were once considered to be. In a provocative cover story, Time magazine (2014) went so far as to urge us to ignore the health advice and eat butter.
The halo effect over butter has seen resurgence in retail sales, now 12% higher than they were in 2008. Conversely, margarine has dropped 25% in the same period [Mintel Market Sizes]
Coinciding with this, we are seeing a trend for more product launches of butter containing products, further increasing demand.
Probably the most noteworthy example (and one which caused its own shockwaves within the dairy industry!) was the decision by McDonalds in 2015/16 to move to more natural foods, including using butter instead of margarine.
The popularity of The Great British Bake Off has also had a profound impact on most aspects of the home baking category and in turn had influence on retail butter sales.

Faced with rising butter prices and potential butter shortage as we enter the Christmas period, reducing butter usage is high on the agenda many manufacturers…
Fortunately, help is at hand.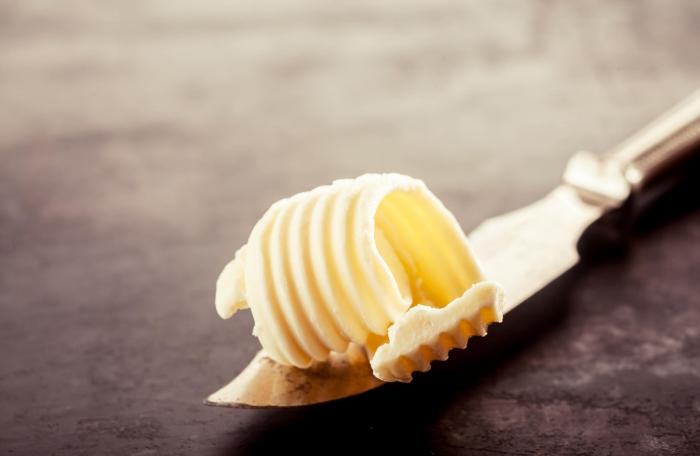 Managing the impact of butter prices on your recipe costs
Synergy's fifty years of dairy heritage, as part of the Carbery group means we can provide the highest quality dairy flavours, tailored taste solutions, application expertise and consumer insight and understanding.
Derived from only the freshest dairy ingredients we offer a range of butter solutions that optimise butter taste and help reduce butter content in a wide variety of applications. Our dairy experts will work with you to deliver your development objective.
Maximum authenticity and intensity of flavour, whilst retaining process and shelf stability are what makes this range invaluable for recipe reformulation.
Based on stable dairy emulsions the range has been formulated to create the same sensory experience as real butter. Composed of natural, butter derived concentrates and high impact butter top notes, profiles include fresh and whipped, cooked and caramelised butter. The rich mouthfeel our solutions deliver plays a key role in the consumer acceptance of reduced-butter.
By using our butter flavour solutions, customers have been able to remove up to 50% butter from their formulations and benefit from significant cost savings. All this whilst retaining authenticity of flavour, aroma and mouthfeel.
Find out more about our dairy flavour solutions by visiting our dairy optimisation page, or for samples, please contact our team by email: marketing.uk@synergytaste.com or by phone: +44 (0) 1494 492222.
insights