Catering for coffee connoisseurs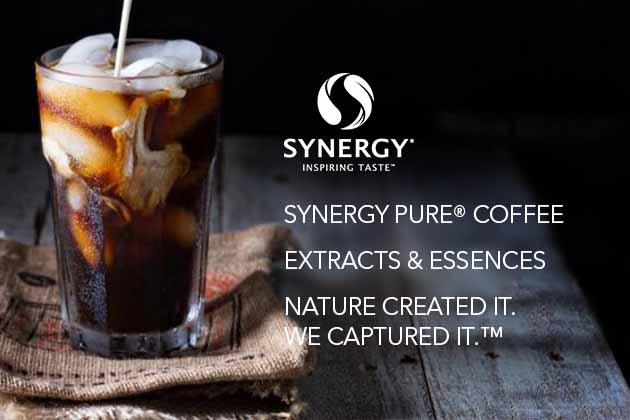 Coffee – feeding the daily fix
The UK ready to drink (RTD) coffee market is forecast to grow by 52% before 2020, to be worth £83.9M (Euromonitor) and is thought to be one of the fastest growing coffee markets in Europe, thriving with endless new innovations.
Research has found that major capital investment is being made into many expanding coffee businesses, along with time, effort and skill into differentiating their product lines. The coffee market however, is much broader than freshly brewed coffee served by the chain and independent cafes. Coffee lovers can get their fix through ready-made beverages including iced coffees or do-it-yourself syrups and coffee mixes.
Café culture has transformed British high streets and also many people's social habits. Going for a coffee with friends, or even holding business meetings over a flat white has become the norm. But it's not just an 'occasion' drink. Grabbing a coffee on the way to work, or while shopping has also become a lifestyle habit for many, with convenience and cost important factors in driving new products to meets these differing needs. The introduction of ready to drink coffee products as part of 'meal deal' offerings in several supermarkets has also increased the number of people consuming these products on their lunch break.
As is the case throughout the food industry, consumer demand for all-natural and clean-label ingredients in coffee products is growing. Coffee consumers are increasing their awareness about sourcing and sustainability issues, as well as the health implications of their consumption habits. This is driving demand for coffee products that are natural as well as organic and/or Fair-trade. Balancing the need to constantly create new and exciting coffees or coffee flavoured products to keep ahead of demand, as well as catering to these goals can be challenging for manufacturers, foodservice outlets and retailers.
It's a matter of taste
Pubs, cafes, retailers and fast food restaurants want to cater for the different coffee consumption habits and so manufacturers are examining the quality and origin of the ingredients in their coffee products to meet consumer demands and fulfil the appetite for authentic flavour. Now, coffee connoisseurs are learning how to appreciate the taste of different blends and the regional variations, and so the desire for top class coffee – and even different blends or tastes for different occasions – grows.
However, as with any agricultural crop, there can be many challenges in the coffee bean supply chain that can impact the flavour, quality and cost of the beans – all of which can cause major problems for manufacturers and coffee product vendors. To cater for growing demands, many are turning to innovative flavour suppliers to provide natural, authentic coffee concentrates that deliver quality, consistency and cost stability. Especially suitable in iced coffees and other ready to drink (RTD) coffee products, coffee extracts and essences can confer the flavour coffee lovers seek, while avoiding the added manufacturing steps of large scale brewing.
Freshly-brewed flavour
A key challenge for flavour suppliers is retaining that unmistakable, rich, full, coffee flavour during the processing of coffee extracts and essences. When coffee is processed, the naturally present nutrients, including caffeine, can often be diminished, along with the flavour profile. Yet, the caffeine and rich aromas, are what draw many of us into our favourite coffee products in the first place!
With this in mind, Synergy has developed the Synergy Pure® coffee range – part of the Synergy Pure® range of natural essences and extracts, which maximises the natural sensory properties of coffees, teas, botanicals, herbs, fruit and vegetables. A proprietary processing technology minimises the degradation of the natural nutrients – such as caffeine – in the raw coffee beans being used. This is achieved through a gentle, heat-reduced processing and vacuum evaporation system that delivers a robust, rich flavour profile akin to freshly brewed coffee.
Synergy Pure® coffee essences and extracts are water-based ingredients that retain, in a concentrated form, the aroma fraction and other properties of the coffee bean. The products are all-natural, gluten-free and allergen-free, with organic, single origin and Fairtrade options available. To cater for varied flavour preferences, the range includes both high and medium roast coffee essences, as well as extracts.
As more people become interested in the art and science of coffee, they inevitably become more interested in new and novel brewing methods, the most popular at the moment being cold brew. To cope with this increasing demand, the Synergy Pure® range now also includes a 100% cold brew coffee concentrate.
The ability to create exciting flavour profiles to entice consumers is a key draw to this innovative range. Tailored solutions combine essences and extracts, such as a coffee extract with a caramel flavour, to create, for example, an authentic and easy to develop RTD Caramel Latte. However, the possibilities are endless. Coffee lovers get a buzz out of trying new blends and flavours and with the help of Synergy's skilled flavourists and broad range of natural essences and extracts, there is no limit to your creativity!
If you are looking to tap into the market for coffee products, or improve the quality of your existing range, pick up the phone to us today. Let's meet for a coffee!
Contact us at marketing.uk@synergytaste.com or by phone: +44 (0) 1494 492222.
You can also follow us on Twitter @Synergyflavours, to be the first to find out about the latest flavour innovations.
insights