Easter Inspiration: Top trends for 2023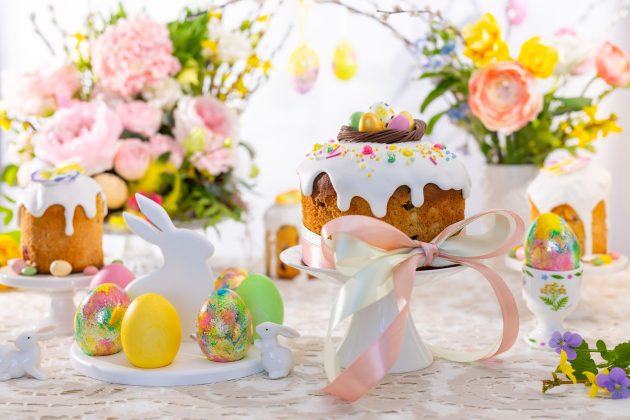 Are you ready to elevate your Easter celebrations this year? Get ready to tantalize your taste buds because we're bringing you the latest Easter trends in food and drink!
The Year of the Rabbit
In recent years, themed dishes showcasing colourful eggs and bunny-shaped delights have captivated both young and old alike, becoming symbolic for the Easter season. With 2023 being the year of the rabbit, rabbit-shaped chocolates and candies have hopped into the spotlight, enticing those with a sweet tooth. We are seeing even more rabbit inspired recipes such as chocolate orange carrot cake and British Bakels Bunny Bum Cake. Waitrose have been inspired by the rabbit this year releasing products like Hip Hop Harri, the Easter Carrot Patch Cake, and The Chocolate Dabbit – from the partnership with experimental chef Heston Blumenthal, an Easter treat and a test of imagination.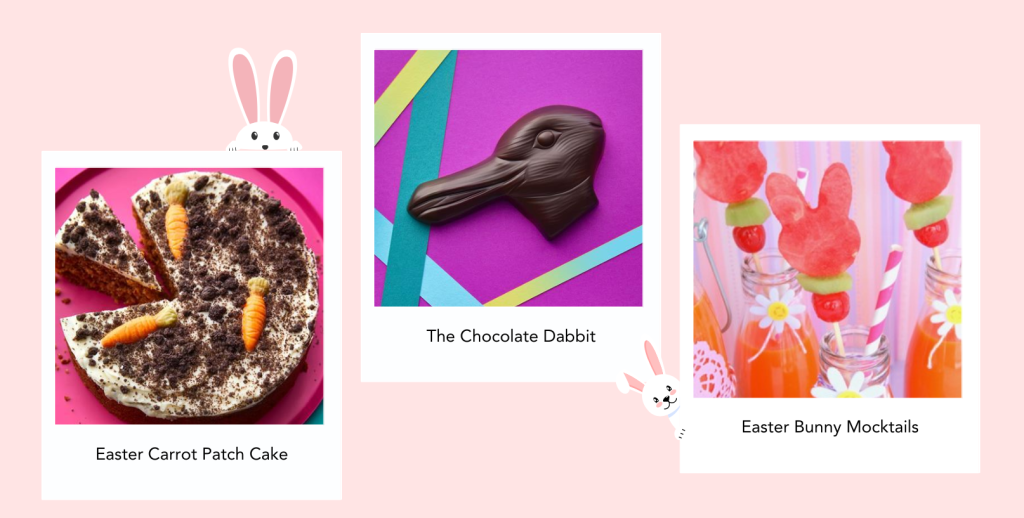 Creative beverages have also joined the mix with Easter-inspired cocktails infused with decorative edible eggs or garnished with rabbit-shaped treats, weaving a sense of magic into every sip. Great examples of innovations in this area are Monin's indulgent Easter Egg Cream Soda and the artistic Easter Bunny Mocktails from the Tatertots and Jello Blog, incorporating carrot juice into their recipe.
Hot X Bun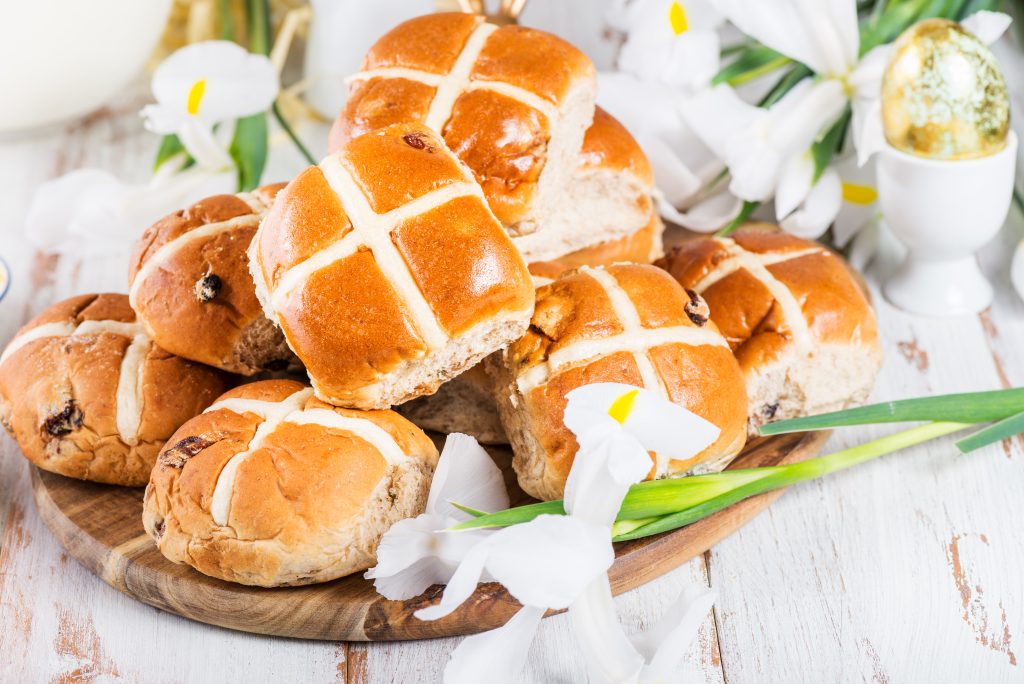 Every year the range of hot cross buns variations gets wider, and this year is no exception. Hot cross buns are the main product for flavour innovation throughout Easter and offer inspiration for other bakery product categories. Some key flavour profiles standing out to us this year are both sweet and savoury. Red velvet is seeing an increased crossover into alternative categories with the contrast of tradition and novel hybrids trending (Source: Innova Market Insights). This is certainly the case for Tesco Finest Red Velvet Hot Cross Buns which include white chocolate chunks and dark chocolate chips. Savoury launches have also become extremely popular this year with many flavour variations having cheese, such as Cheese and Caramelized Onion Chutney from Tesco and Sainsbury's Cheese, Tomato and Oregano Hot Cross Buns.
The hot cross bun craze is even finding its way into the traditional Easter egg category with M&S' Hot Cross Bun Egg using spice flavoured milk chocolate, raisins, orange jelly pieces and a white chocolate cross. It is also creeping into products like the well-known Heinz mayonnaise as they reveal their new product made from classic mayo, toasted hot cross buns, cinnamon spices and fruit pieces. The innovations are endless with this Easter favourite!
It's All About Chocolate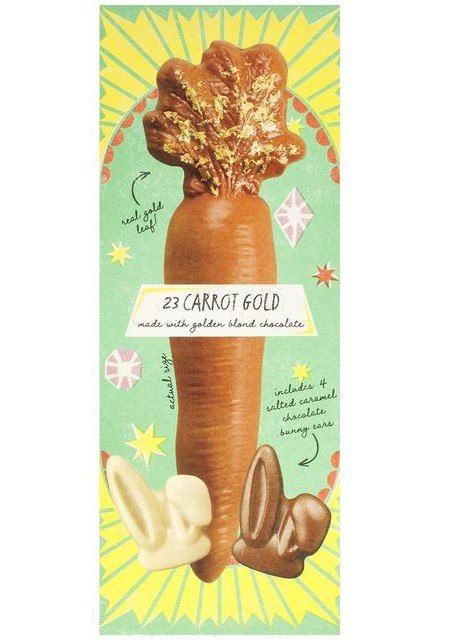 Chocolate plays an integral role in the celebration of the Easter holiday. As families and friends gather to exchange gifts, hunt for hidden treasures or simply indulge in the rich flavours of cocoa, the tradition of sharing chocolate during Easter fosters a sense of unity, love and appreciation among those who participate in the festivities. Milk chocolate has always come out on top during this period, but consumers are constantly experimenting with other chocolate types.
Flavour variations of chocolate we are seeing this Easter include blonde chocolate, raspberry & white chocolate, chocolate hazelnut and salted caramel, which has a flavour growth of 14% (Source: Innova Market Insights). M&S have delved into the world of chocolate innovations with their 23 Carrot Gold Egg made with blonde chocolate and decorated with milk and white chocolate bunny ears, filled with salted caramel as well as their Extremely Chocolatey Hot Cross Buns made both with milk and dark chocolate.
To keep up with the existing plant-based trend, Tesco co-owned brand Wicked Kitchen have released a plant-based Easter egg with a classic chocolate shell and added salted caramel crunch. And we cannot forget mindfulness this Easter, as the Mindful Mocktail create their Chocolate Mocktail which can be whipped up in 5 minutes!
Get in touch with us directly here for more information on seasonal trends and flavours!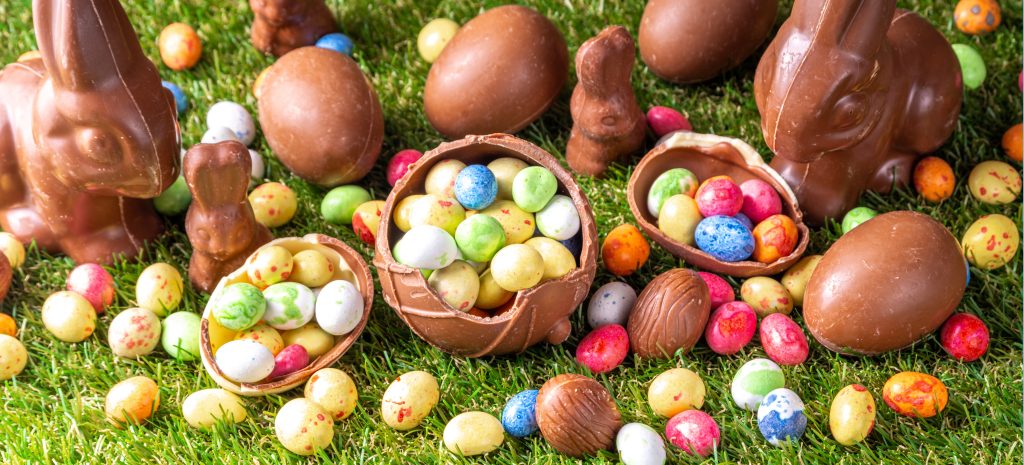 insights