Fall in love with chocolate this Valentine's Day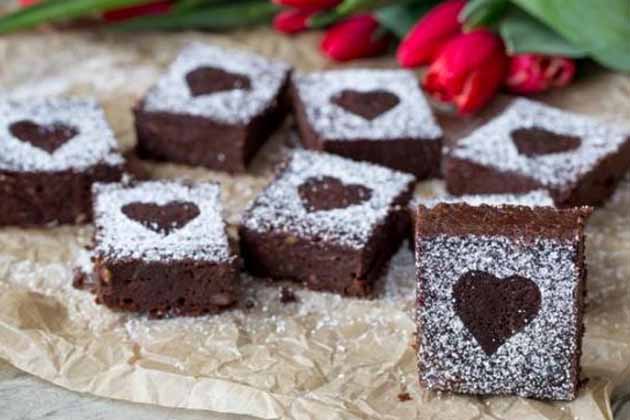 Pralines, truffles galore and heart-shaped chocolate boxes have long been associated with the 14th of February, but why are we so obsessed with offering sweets to our sweethearts on Valentine's Day?
The history of Valentine's Day
The origins of the day still remain a bit of a mystery, but we do know that February has long been celebrated as a month of romance, and both Christian and Roman traditions have had an influence over the celebratory day of St. Valentine.
Valentine's greetings can be traced back to the Middle Ages and this is when we started to see knights giving roses to their maidens and declarations of love, but sugar was still a precious commodity so there was no mention of exchanging sweet gifts.
Sweets for your sweet
By the 1840s the romantic associations of Valentine's Day had taken over most of the English-speaking world, it was the golden age for cupid! The love-crazed Victorians began to shower each other with elaborate gifts and cards. At this time, the industrial revolution had introduced new advanced technology that allowed early chocolate pioneers to produce modern era chocolate from cocoa powder, butter and sugar.
It was British heritage manufacturer Richard Cadbury who saw a marketing opportunity and decided to sell his new 'eating chocolates' in beautiful boxes decorated with images of lovehearts and cupid. The modern-day Valentine's Chocolates were born!
A corporate holiday?
It's a joke as old as sitcoms themselves, that we see our lovelorn hero declare Valentine's Day "just another corporate holiday", but as seasonal launches become more and more popular, is the holiday becoming increasingly commercialised?
Quite possibly…
According to research from Mintel in 2016, 76% of British consumers believe the holiday has become too commercialised, however that didn't stop 49% of consumers forking out for Valentine's Day gifts.
Likewise, there appears to be no slowing down of spending, as sales grew by 2% to reach £470 million in 2016.
Excluding a few exceptional years, the number of food products launched in the UK positioned as Valentine's launches has also continued to rise exponentially since the Millennium.
Although we're beginning to see Valentines product ranges growing significantly across savoury and sweet categories, chocolate is still the number one gift, making up almost 60% of seasonal launches since the turn of the Millennium.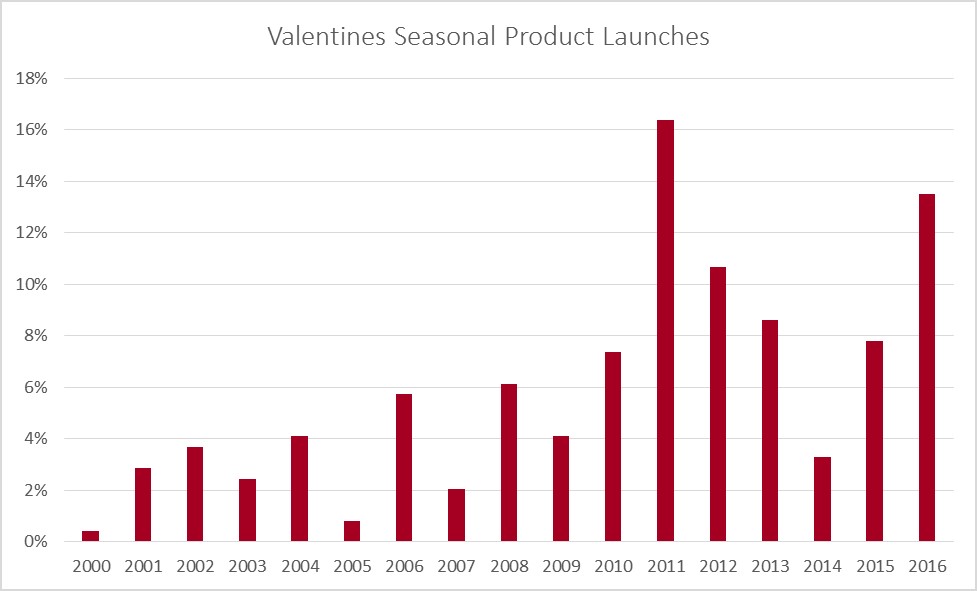 Not just for valentines…
The UKs love affair with chocolate isn't just limited to one day of the year, we are a nation of chocoholics all year-round.
Aside from chocolate confectionary, the flavour dominates in a number of other sweet product categories. In fact, chocolate featured as a flavour in over 60% of new product launches across cakes, pastries and biscuits in the last 3 years making it the most popular flavour in bakery.
Inspiring Flavours
Chocolate is extremely complex, with over 600 flavour compounds whereas red wine only has 400. It can vary in taste and texture depending on where the beans have come from and how it has been processed.
Inspired by the world's love for chocolate, we have developed a range of chocolate flavours that reflect four authentic profiles. We have used sensory evaluation to map out each of the profiles in a variety of product applications: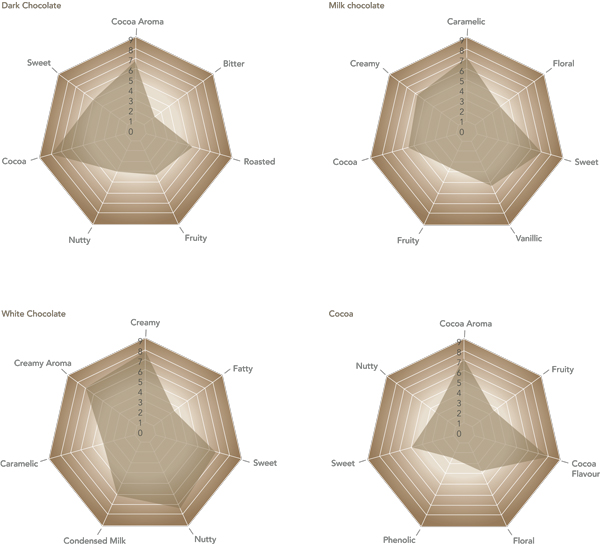 Dark Chocolate
Dark chocolate has the largest quantity of cocoa solids, at least 70% and delivers a rich roasted profile with cocoa aroma.
Milk Chocolate
Milk chocolate must contain 10% cocoa liquor, 3.7% milk fats, and 12% milk solids and offers a caramelic, sweet and creamy profile.
White Chocolate
Isn't technically chocolate, as it contains no cocoa solids or cocoa liquor, but it has a very sweet, vanillic profile making it a fast favourite with consumers.
Cocoa
Cocoa solids are a mixture of many substances remaining after cocoa butter is extracted from cacao beans, and delivers a strong cocoa profile and aroma.
Our team of experts have tested the range of flavours in a variety of product applications, and they are suitable for the following:
Cookies, biscuits and biscuit fillings
Cakes and muffins
Buttercream icing and fondant
Custard
Ice cream
WPC based beverages
With extensive technical knowledge, application know-how and market insight, working with a flavour expert like Synergy Flavours is essential in creating products with real flavour impact. Our in-house flavourists not only understand sensory properties, but also how they can influence positive and negative flavour characteristics in different applications – helping you to develop winning products every time!
Contact our team for more information on our range of authentic new chocolate flavours.
insights