Fire up that grill – it's barbecue season!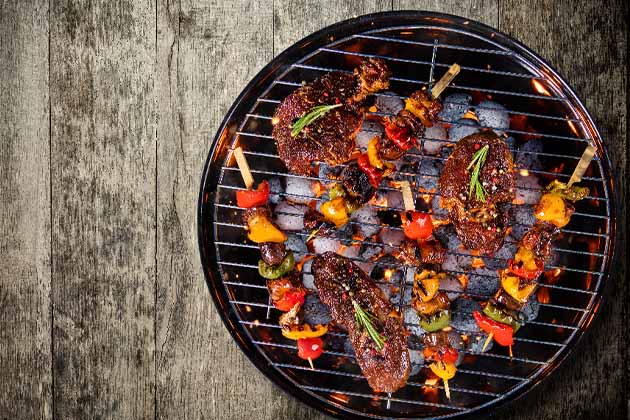 And so it begins! After what has seemed like a particularly protracted winter, the sun has finally emerged, the UK has experienced the hottest April day for seventy years and sure enough, our supermarket shelves are now stocked with the latest products for our barbecues.
In recent years, barbecuing has undergone something of a renaissance. For decades it was synonymous with sausages and burgers burnt to a cinder, covered in ketchup and wedged between two buns, washed down with a can of lager.
The new generation of barbecue
Around 2010, however, the tide began to turn, as Britain and Europe began to re-think their relationship with barbecuing, turning to America for inspiration.
Beginning with barbecue pioneers, such as Pitt Cue or Bodeans, the UK quickly developed an appetite for American 'Dude Food' and in particular, the Kansas City-style molasses based sauce that has since become ubiquitous in this country.
Fast-forward eight years and pretty much any pub with a kitchen is serving some form of pulled pork, a US barbecue staple. According to The Food People Menuwatching, barbecue appeared on 161% more menus in July 2017 than the same date in 2013.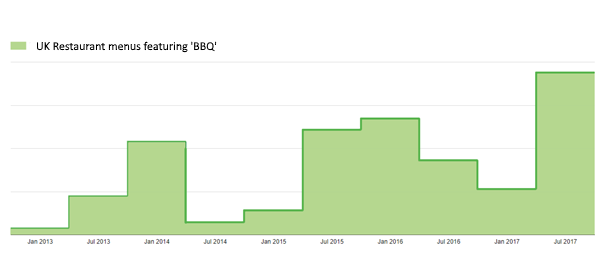 At the same time, we are also seeing more barbecue products on multi-site restaurants, meaning the weighted reach of this cooking style has also grown exponentially.
Barbecue is also diversifying both in terms of venue types that offer it and cuisine influences it uses. Although British and American barbecue still account for 60% of all menu appearances, there are more global influences appearing, ranging from Japanese to Central American.
We're even starting to see some fine dining restaurants moving into the arena, offering guests a gourmet barbecue experience. A perfect example of this is the International Smoke in San Francisco, where Ayesha Curry has taken a variety of global barbecuing techniques, combining them with high quality ingredients such as lobster, and a more delicate presentation than is traditionally associated with barbecue.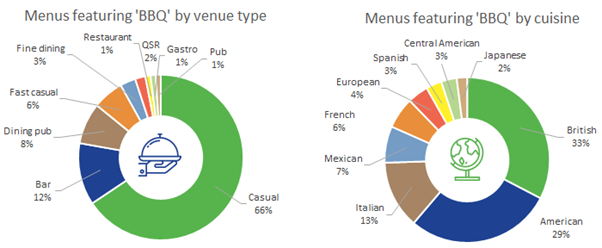 Bespoke smoke
Although smoke has always been a key flavour in savoury (think smoky bacon crisps), it is only in the last 4-5 years that it has taken off. When American barbecue really hit retail in 2014/15 we saw a huge leap in the number of product launches – a 208% increase in the number of product launches featuring this flavour.
Similarly, there was an increase in the variety of smoke profiles as retailers strive for points of difference. This has resulted in more named smokes such as Applewood, Hickory and Beechwood.

Another common cooked profile in barbecue is grill. Grill flavours have been in the news lately, following the EU wide exclusion of Grillin 5078 and Grillin CB-200 SF, a key component in grill-style flavours. All Synergy products are compliant, and we have also launched a new range of grill flavours including coal embered grill, succulent grill and sweet sizzling grill.
Alcohol flavours
Much like smoke, alcohol has always been a core flavour in savoury products – steak and ale, red wine jus, beer battered fish – however, in that same vein, we're also seeing a diversification in the alcohol flavours being used as chefs and manufacturers become increasingly adventurous.
Given the success of the Jack Daniel's barbecue sauce (which launched just before the barbecue craze really hit full swing) it's unsurprising that bourbon has become a key flavour profile in both table barbecue sauces and ready-to-cook meats.
As long as American barbecue remains popular, bourbon will be a natural flavour pairing. As people look to new cuisines though, we will start to see other regional alcohols coming through – such as tequila or mezcal in Latin American themed barbecue products.
Fruity
Most barbecue sauces have a vaguely fruity profile due to the inclusion of tomato ketchup, combined with sweet molasses and quite often, apple cider vinegar. So it's only natural that in the search for a point of difference, more chefs and manufacturers are experimenting with diverse fruity flavours.
With the appeal for more barbecue twists growing, we expect to see a wider variety of fruit based barbecue sauces on the market – everything from peach to tropical fruits like guava or pineapple!
The latest round of innovation from Coca-Cola is also likely to inspire innovation in the barbecue sector. Cola meat marinades have long been a barbecue staple, and the new launches from Coca-Cola (exotic mango and peach) will no doubt find their way into people's recipes before long!
Barbecue goes global
Foreign cuisine is also influencing barbecuing habits. The main flavour profiles which we are seeing impacting this market are Mexican, African and Middle Eastern. This influx of new flavours is largely brought about by the general increase in accessible, foreign cuisine. Mexican restaurants are on the rise, with a 71% increase in new restaurants in the UK in 2015. People's attitudes towards these flavours are also changing – The Mintel, World Cuisines Report [Feb 2018] has shown an increase in people eating Mexican, African or Middle Eastern food across the board.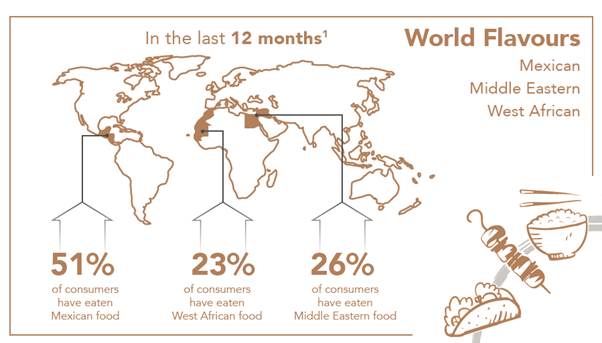 Consumers have already warmed to a few global barbecue styles, such as South American Churrasco, and we expect this to broaden to a range of additional styles such as Jamaican jerk, Korean bulgogi, Hawaiian barbecue, Japanese Yakiniku and even traditional Andean/Patagonian barbecue styles which have been popularised by Francis Mallmann, an Argentine chef who has developed a cult following since an appearance on Netflix's Chef's Table.
Veggie barbecue
With around 68% of UK consumers actively trying to moderate meat intake, we're seeing a knock-on effect as the vegan and vegetarian trend begins to penetrate the barbecue category.
Whether people are veggie themselves, or just catering for those who are, there's a growing need for more 'ready to grill' meat alternative products. Vegetarian barbecue products have been a hotbed of innovation, with novel ideas such as Sainsbury's BBQ pulled jackfruit to simulate pork.
The Synergy solutions
At Synergy, we have a number of authentic solutions designed to help our customers easily tap into the latest barbecue trends.
Our range of pastes are made from store cupboard ingredients and ideal for use as a wet meat rub or as a sauce. The range features barbecue sauces such as Kentucky Black BBQ, we also have a range of global offerings such as Hawaiian BBQ, Bulgogi and Jamaican Jerk.
Our flavour top notes are ideal for adding an extra flavour boost or moving standard barbecue products in specific directions, by adding a fruity, alcoholic, meaty or smoked note.
Our compound seasonings are ideal as a dry rub imparting both flavour and savoury tastes. We have a number of barbecue themed seasonings including a Carolina dirt rub and an Amarena cherry seasoning.
If you're busy plotting your summer eating range for 2019, and would like a full list or samples of our barbecue range, please contact our team.
insights