Flavour pairing for gin? We'll drink to that!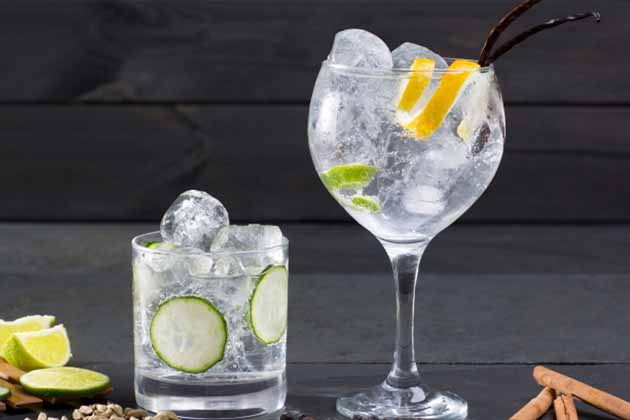 If you've been living anywhere other than under a rock for the past five years, you might have noticed that gin has become quite popular!
Even just ordering a humble G&T has become a daunting task with a myriad of gins and tonics to select from!
Since gin was first created in 17th century Holland, it has endured varying fortunes to get to where it is today, with British consumers buying a record 47m bottles in 2017.
But it has not always been such plain sailing for gin…
400 years of gin
The first confirmed date for the production of gin was in 17th century Holland where it was known as jenever.
This medicinal, botanical drink was entirely alien to the British, but was quickly adopted by the soldiers fighting in The Netherlands during the Thirty Years' War where it was used to settle the nerves before battle, spawning the phrase 'Dutch Courage'.
British soldiers brought the drink back, but under the monarch of the time King Charles I, distillation laws were incredibly strict, thus meaning it could not be distilled here.
By 1689, however, William of Orange had ascended the British throne, loosening laws, encouraging distillation and paving the way for the British gin revolution.
In the years that followed, gin distillation grew and gin became cheap and readily available but by the 18th and 19th centuries, had started to develop a reputation as the drink of choice amongst the poor leading it to be dubbed 'Mother's Ruin'.
21st century gin
After two centuries out in the cold (albeit with a small revival in the 1920s) gin burst back into life around the beginning of this century and hasn't looked back since!
Despite some common floral, spicy and citrus notes, each gin is wildly different – something which has resonated in an era where consumers seek personalised food and drink experiences and where craft industries are trendier than ever.
At the same time, European consumers have begun favouring less sweet drinks opting for floral and spiced drinks over more traditional, sweet soft drinks and cocktails.
All this has meant that the British gin market is now bigger than ever with Brits drinking the equivalent of 1.2bn gin and tonics in a twelve-month period – approximately 22.5 gin and tonics per 53m UK adults! Which when you consider not all of the UK adult population drinks, is even more remarkable!
It's not only gaining popularity in Britain either. British gin has now become the worldwide benchmark, and in 2016 the UK exported 180m bottles to 139 countries, generating £474m in sales.
And all of this shows no sign of stopping either, with the British government taking a leaf out William of Orange's book, and freezing the spirits duty for small manufacturers, something which is expected to continue the craze for craft spirits.
Flavour trends
At the beginning of the 21st century's gin renaissance, consumer choice was limited largely to a handful of established gin brands plus a couple of tonic brands offering little more than either normal or slimline tonic.
But with over 315 gin distilleries in the UK alone (just over double the number in 2013), the pressure is on manufacturers to create products which can stand out from the competition. Some are choosing novel ways, such as Old Curiosity with a gin that changes colour when tonic is added.
Ultimately however, the gin is there to be drunk – the simplest way of enticing and retaining customers is through interesting flavours with great delivery!
What we've seen over the last five or six years is a drastically different gin and tonic market.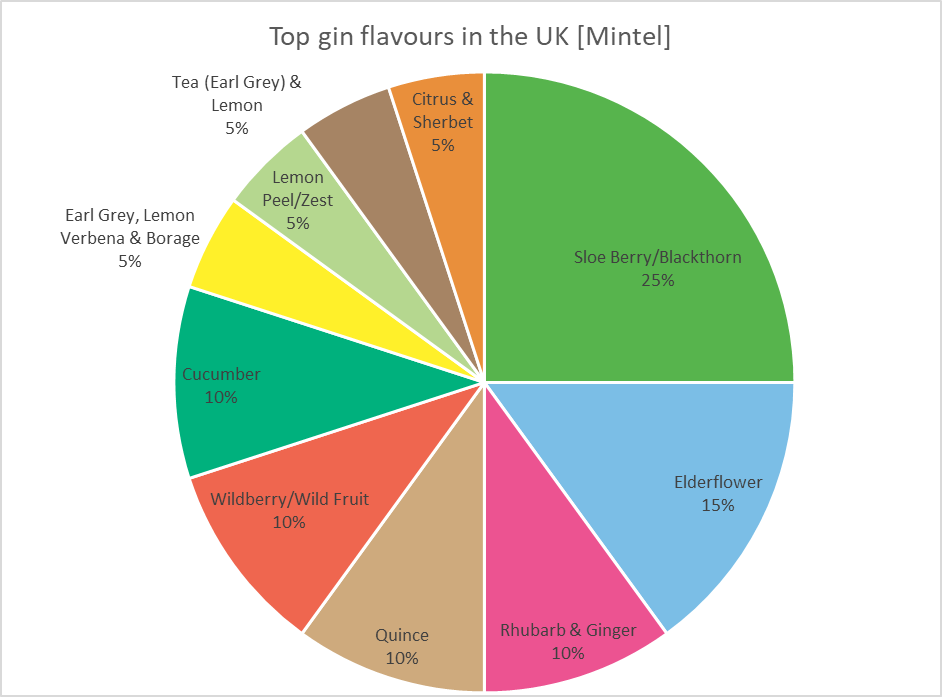 Although the gin market is still dominated by 'unflavoured/plain' variants (if you can call numerous botanicals 'plain'!) we are increasingly seeing a move towards flavoured gins. According to Mintel GNPD data, in 2018 only 58.7% of launches were unflavoured, compared with 80% the previous year. Flavoured gin is also the fastest growing gin segment, registering an astounding 751% sales growth since 2017!
We're also seeing more and more adventurous flavour combinations as well, with novel but classic British flavours such as quince, rhubarb and even Earl Grey tea appearing in premium gin offerings.
Unsurprisingly, tonic is also in a golden era of flavour innovation, with elderflower, ginger and grapefruit tonics all on offer. In 2017 we even saw espresso tonics make headlines as one of the year's most divisive drinks trends!
The science of flavouring gin
Given the complexity of gin (some boast upwards of forty botanicals), flavour science can help when creating a perfectly blended gin.
To aid in the creation of our gin flavour range, our analytical team has used GC-MS (Gas Chromatography-Mass Spectrometry) to analyse the flavour compounds within market leading gins.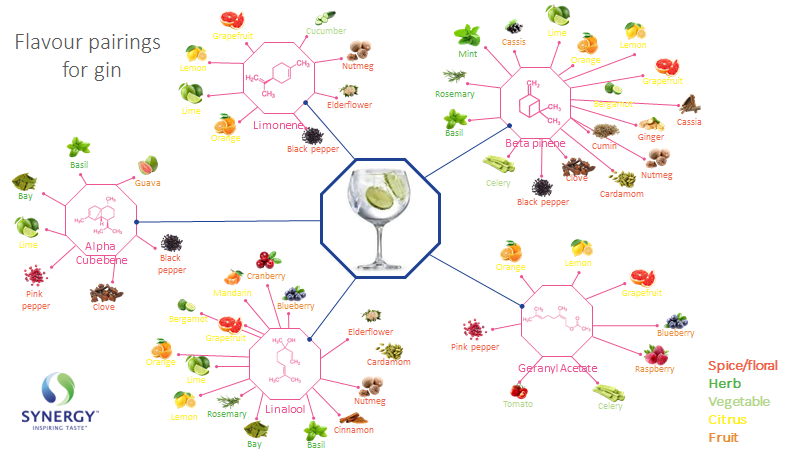 Although the botanical blend of each gin is different, our analytical research highlights common flavour pairings for gin of citruses like lemon, lime, grapefruit and orange. Additionally, the presence of compounds such as alpha cubebene and beta pinene may enable some gins to effectively pair with black and pink peppercorns – perhaps explaining why both have become trendy gin and tonic additions in recent years.
The data even offers some explanation for more weird and wonderful pairings such as this celery gin and tonic which undoubtedly benefits from sharing the flavour compounds Beta Pinene and Geranyl Acetate with many of the components within gin.
Our gin offering
Our premium beverage flavours can help enhance the flavour profile of gins, tonics and cocktail-type mixes. Our extensive analytical analysis enables us to create flavours that suit the craft gin movement and offer manufacturers a new or exciting twist that might help their gin beverage to stand out.

We offer:
Citrus extracts
Natural botanical extracts
Natural flavours
So if you're planning your next round of innovation on your gin products, why not pick flavours scientifically paired with your products and backed by market trends? Get in touch to find our more about our analytical and beverage flavour capabilities.
insights