Get yourself 'set' for Wimbledon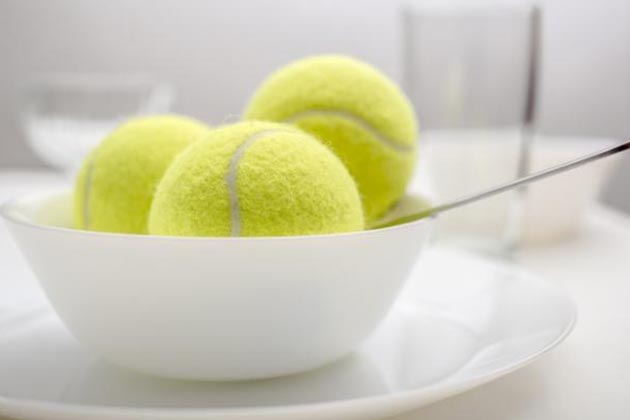 Wimbledon will take centre stage at the end of the month – and statistics reveal the scale of its global appeal. Last year, Tweets about Wimbledon were viewed an incredible eight billion times.
The use of social media as a platform to talk about Wimbledon may be a new phenomenon – but the popularity of summer flavours associated with the tournament is a much more deep-rooted tradition.
Wimbledon and flavours: the beginnings
For most British tennis watchers, the first thing that springs to mind at the start of the Wimbledon fortnight is "Will this be Andy's year again?" The second thought is strawberries (and cream) – but this has not always been the case. Although the first Wimbledon tournament took place in 1877, it was not until 1953 that strawberries were first served at the event. In 1970, cream and a dusting of sugar became the perfect accompaniments and today, no visit to Wimbledon is complete without this tasty treat.
Another revered Wimbledon refreshment packed with invigorating fruit and vegetable flavours is Pimm's. A relative newcomer to the century old event, this popular punch has been a regular at Wimbledon since 1971, when the first ever Pimm's vending stand was opened.
These refreshments have become synonymous with Wimbeldon and continue to 'serve' up excitement for spectators today. In fact, Wimbledon's caterers revealed an average of 320,000 glasses of Pimm's, 28,000 kg of strawberries and 7,000 litres of cream are consumed during the two-week championship.
What's new?
Wimbledon is far from alone in driving food and drink trends, and is one of a number of sporting events which are used for inspiration for new product development (NPD). In the run up to the Brazil World Cup in 2014, Mintel reported a surge in products featuring some mention of 'World Cup' on the packaging. This sudden NPD trend was driven in equal parts by new packaging and range extensions (44.4% each) and new products and relaunches (5.6% each). Some of the more notable pieces of innovation came from Lucozade, which launched several new lines across its sport and energy brands, including Brazilian mango mandarin and Brazilian guava flavoured beverages.
In-keeping with this increase in NPD, well-known brands such as Robinsons, have launched limited edition flavours to get the nation into the tennis spirit. As part of its 'A Real taste of Wimbledon' campaign, Robinsons has just launched a new lemon & pink grapefruit flavour to entice juice drinkers.
And in 2015, building on its popularity, Pimm's also got in on the act, releasing a limited edition "strawberry with a hint of mint" and a Pimm's cider cup. The latter product is a mixture of Pimm's No.1 and British cider, blended with a hint of classic Pimm's strawberry and cucumber flavours.
For the strawberry and cream aficionados, independent small batch distillery Poetic License has rolled out a limited edition strawberries and cream-flavoured gin this year, believed to be the first of its kind on general sale.
And finally, anyone who is partial to a sweet treat can try specially developed Wimbledon-themed cupcakes. Cuckoo's Bakery in Edinburgh, for example, has created a cupcake filled with strawberry and champagne jam, piped with green grass vanilla buttercream, finished with a white chocolate net and a sugarcraft tennis ball. This creative recipe is the perfect accompaniment to finger sandwiches or strawberries and cream while you watch the tennis.
The aces up our sleeve
Here at Synergy, we have developed our own range of flavours to ensure you make the most of the annual Murray mania.
As well as being a firm fixture at Wimbledon, strawberries are a staple part of Synergy's flavour range. This includes three strawberry varieties including strawberry, strawberries and cream (an old favourite) and strawberry and basil, a flavour which coincides with the growing popularity of vegetable and fruit blends.
We have also developed other refreshing fruit-based flavours such as fruit punch, cucumber, lemonade, and mint flavours – perfect for the hot summer months. These flavours are all suitable for a wide variety of applications, including bakery, dairy, beverages and sports nutrition products: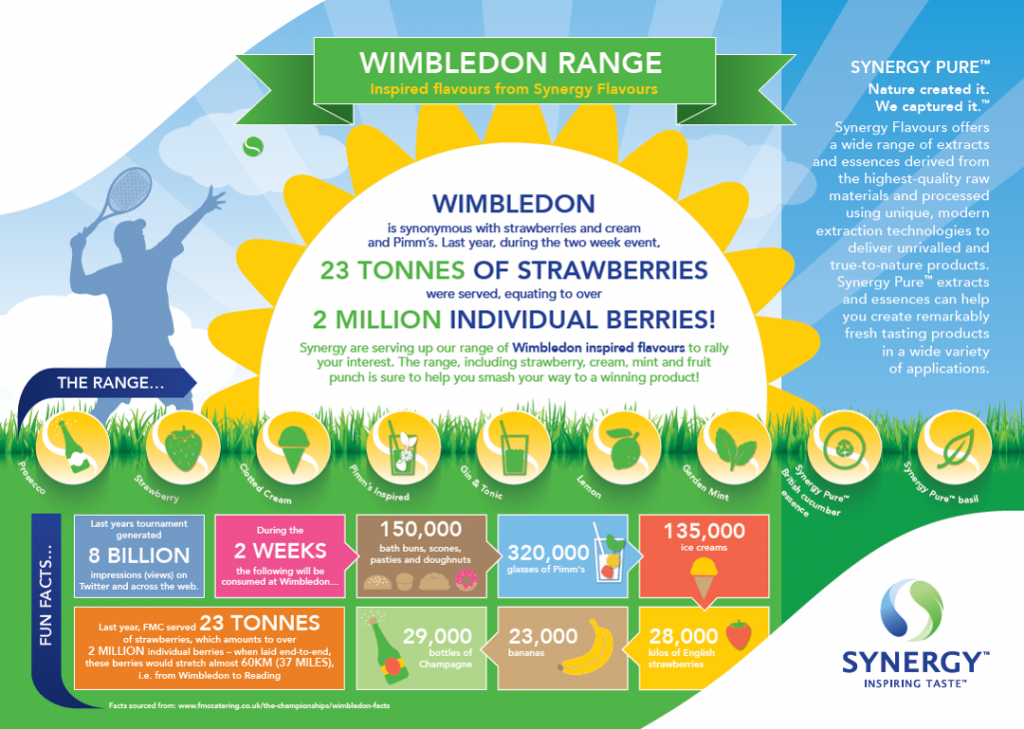 Natural flavours
We are committed to ensuring our flavours and essences taste just like their freshly picked raw material sources. For our extracts and essences, we select only fruit and vegetables which offer the highest flavour quality, best inherent colour and greatest bio-activity. The end results are products which will excite the ever adventurous taste buds of Wimbledon crowds everywhere.
insights