Grown up soft drinks: make mine a pink lemonade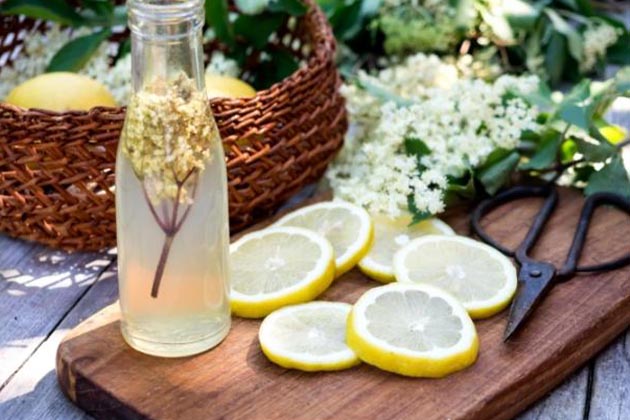 Across Western Europe the consumption of alcohol is in slow decline with around one third preferring to turn to soft drinks. In the UK, according to a YouGov poll, five million people signed up to 'Dry January' last year, and Alcohol Concern says participants of its New Year campaign have quadrupled in three years.
Furthermore, research by Public Health England suggests 67% of people will cut back over the rest of the year, while 8% will stay dry altogether.
Last year, Club Soda was launched by a couple wanting to provide a supportive environment where people could practice mindful drinking – to reduce alcohol content or remove it from their social life altogether. Mindful Drinking Festivals have developed from the success of the club, showcasing some of the fantastic non-alcoholic beverages available in UK and around the world that use exciting flavour combinations to satisfy the palate. One of the notable successes of the demand for great tasting, non-alcoholic drinks is the bloom of botanical flavoured soft drinks available in the market today.
Undoubtedly influenced by the craft gin movement, botanicals are helping soft drinks to become one of the fastest growing drinks categories in Western Europe. The use of botanicals transforms a soft drink into something more grown up, exuding sophistication and a premium feel that is typically reserved for alcoholic beverages. Botanical flavours allow soft drinks to replicate the occasion associated with alcohol, while offering an exciting taste experience.
Age-old techniques refreshed for a millennial market
The phrase botanical brewing has, funnily enough, long been linked to non-alcoholic beverages. Fentimans, for example, has been using this method for over 100 years for its soft drinks. Botanical brewing is a technique of making beverages using a mix of infusion, blending and fermentation of natural ingredients. It's only in more recent times that botanicals have come to be associated with premium alcoholic drinks such as gin.
The fact that the soft beverage industry is now turning back to botanical brewing to deliver premium quality non-alcoholic offerings is a sign that the demand for less sweet, more naturally influenced flavours are in favour with consumers. Millennials are more open to exotic combinations that deliver interesting tastes.
Back in November 2015, Ben Branson launched Seedlip, a Jamaican allspice flavoured colourless, non-alcoholic distilled drink to be mixed with tonic – essentially giving consumers a booze-free G&T replacement. Since its launch, Seedlip has received industry backing and has gone on to produce Seedlip Spice (the original flavour) and Seedlip Garden flavoured with peas, spearmint, hay, thyme rosemary and hops. This initial exploration into the distilled botanicals market has led some of the mainstream producers to launch products in this category. Britvic launched Thomas & Evans No 1 and Monte Rosso recently, with both products using botanicals as one of their main flavour profiles to create a sophisticated 'zero proof' drink.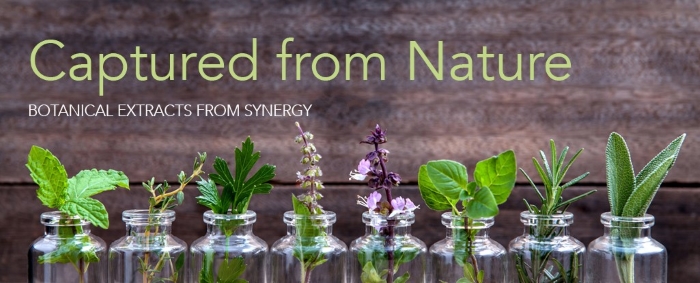 Authentic botanical flavours
To help beverage producers who are trying to develop authentic and great tasting products for this fast growing market, Synergy Flavours has launched a range of natural, water-soluble and completely colourless botanical extracts. The range caters for the growing demand in the beverage industry for less sweet flavoured, natural, plant-based products that are often perceived as having additional health-giving properties. With an increasing number of millennials open to less conventional ingredients, zero proof drinks containing flavours such as rosemary, pink peppercorn, geranium or nutmeg are likely to become increasingly common.
Captured from nature: Synergy's new range of botanical extracts
Geranium extract
Lavender extract
Rose extract
Peppermint extract
Juniper berry extract
Nutmeg extract
Pink peppercorn extract
Rosemary extract
Thyme extract
Basil extract
Elderflower extract
Ginger extract
Lemongrass extract
Black peppercorn extract
To showcase this new range of extracts, our expert applications team have developed a number of innovative concepts, including several alcohol-inspired recipes such as:
Alcohol free gin and tonic jelly with juniper extract
Strawberry and basil daiquiri jelly
Raspberry and rosemary gin mocktail
Pink lemonade with rose
Rosemary and raspberry lemonade
Strawberry and pepper jelly
If you would like to know more about the range, or would like to see samples, please contact us by email: marketing.uk@synergytaste.com or by phone: +44 (0) 1494 492222.
insights