Hot Cross Fun – Taking a look at exciting new innovation on the shelves this Easter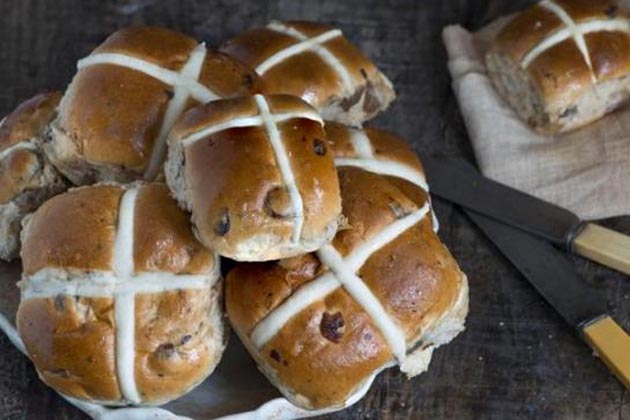 What springs to mind when you hear Easter?
For many people, their answer will be centred around food, and there are a few obvious things that are likely to come up, including chocolate eggs, simnel cake and hot cross buns.
As Good Friday marks the end of lent and the long weekend approaches, it's a chance to indulge in the sweet treats that we have worked so hard to avoid for 40 days and 40 nights!
Traditional indulgence wins
When it comes to Easter, us Brits don't like to steer too far away from what we know, in fact almost half of seasonal food buyers are drawn towards traditional foods. The seasonal food market also seems to be immune to the over-arching health trend with only 13% of consumers looking for healthy products, compared to over half seeking out foods that deliver on indulgence. This probably explains why the food we associate with Easter hasn't changed much over the last few centuries!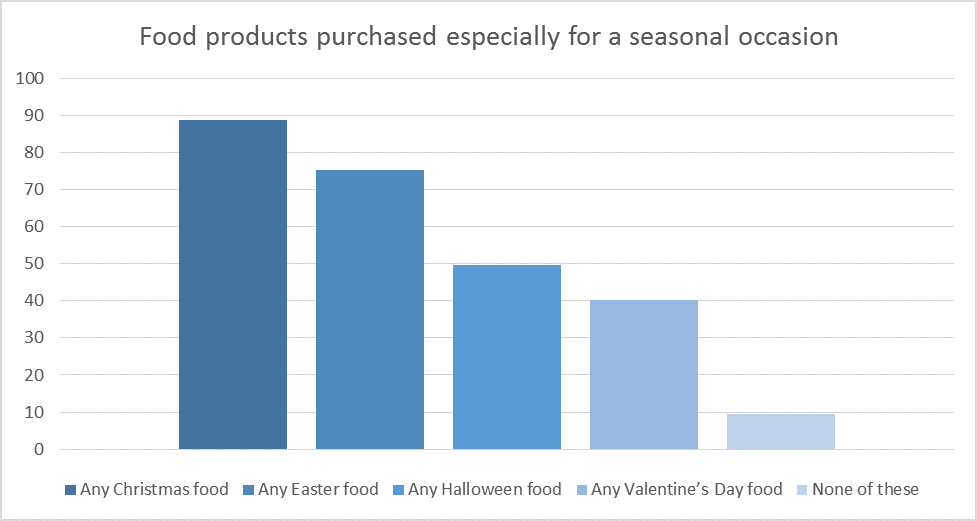 One a penny, two a penny…
Hot cross buns – sticky-sweet spiced buns marked with a cross are synonymous with Easter and history suggests that their story started many centuries ago. It's believed that an Anglican Monk first baked the buns marked with a cross to honour Good Friday as early as the 12th Century.
In Elizabethan times, a decree was issued forbidding the sale of Hot Cross Buns except at burials, on Good Friday or at Christmas , because they were simply too special to be eaten at any other time. The buns were so popular by this point that many people were baking them at home instead. English folklore includes superstitions about hot cross buns, with many people believing that they had medicinal properties. Hot cross buns baked on Good Friday are said to never go stale and could even ward off evil spirits!
Sugar and Spice
Given the deep-rooted English history and tradition of hot cross buns at Easter, it's not surprising that they fly off the shelves every year, from as early as January. Most people opt for the classic recipe which has remained the same for hundreds of years. A traditional hot cross bun is made up of strong flour, mixed dried fruit and some element of spice such as cinnamon or nutmeg.
Although this base recipe remains largely the same, bakers and retailers tend to mix up the spice element every year in order to keep customers interested.
The bakery team at Synergy have been hard at work analysing the 2017 hot cross bun market (including lots of tasting!), in order to discover what spices and profiles are popular this year.
Our sensory analysis showed that most hot cross buns on the market will have some spice, fruity and citrus notes. However, each hot cross bun offers different levels of each of these elements, and some of the products that we tasted even had very specific spice notes coming through including nutmeg, cinnamon and clove. Our sensory analysis work is vital to feed into our marketing team so that we can predict which spice blends are going to be 'hot' next year!
A twist on tradition
There is nothing better than a toasted warm and buttery spiced bun to get you in the mood for a relaxing four-day weekend! However, in recent years, retailers, bakers and food bloggers have been pushing the boundaries on flavour and format to inject some fun and excitement into the category. Innovation tends to be quite conservative – as we know us Brits love traditional foods – but that doesn't mean we can't try something a little bit different.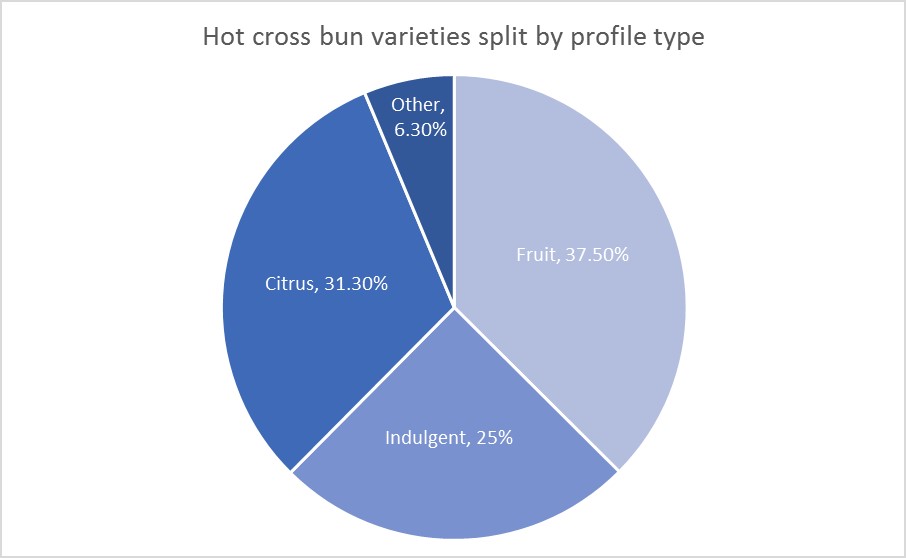 Our bakery team have also been looking at trends in the flavoured hot cross bun space. We have discovered that these flavoured products tend to stick to 3 key themes – fruit, indulgence and citrus profiles.
In the fruit flavours we're seeing a lot of variations on the traditional fruit that are used including apples, berries and cherries, often combined with a spice element.
The citrus variations also stay quite close to tradition with profiles such as orange combined with spices and berries, but can include other interesting profiles such as mandarin.
The indulgent category offers profiles that push the boundaries of what defines a hot cross bun with profiles such as toffee, fudge, chocolate and even savoury profiles!
Outside of flavour, it's interesting to note that bakery hybrids are starting to appear in the hot cross bun category. Bloggers and even well established food magazines are taking popular bakery products and combining them with the flavours of a hot cross bun. These hybrids include hot cross cookies, muffins, scones and even hot cross cheesecakes!

It's clear to see that hot cross buns are here to stay, but a quiet revolution is happening, perhaps influenced by the millennial generation as there is increasing demand to bring innovative ideas to this audience. We can't wait to see what's in store for Easter 2018!

Hear what the rest of our bakery team had to say…
Jenny Connor & Manon Galizzi, Applications experts: 'Apart from the really interesting innovative concepts discovered this year, the biggest surprise was the increasing popularity of hybrid hot cross buns in store and online. We've seen lots of inspirational ways to create a wonderful twist on traditional British Easter food by playing with texture, flavour and even colour.'
Idir Mana, Flavourist: 'I will always associate Easter with indulgence and chocolate. I found it very fascinating to see more brown profiles in hot cross buns this year, moving away from traditional concepts.'
As a keen supplier to the bakery sector, Synergy Flavours will proudly be sponsoring the Twitter wall at this year's Baking Industry Awards in September. Hope to see you there!
Join the conversation @SynergyFlavours
insights