Power to the plants: blooming botanicals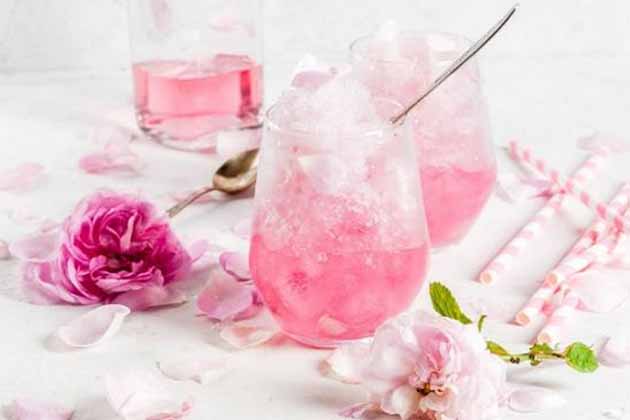 We're taking it back to nature as we explore the latest trend that is in full bloom across the food and beverage industry.
In a world where wellness is paramount, we're increasingly looking to botanical ingredients to provide a taste that's close to nature.
Why now?
Botanical ingredients aren't new, in fact plants and extracts have long been popular as natural medicinals for centuries. So why now are botanicals becoming popular again? One theory is that the gin movement has made botanicals better known to consumers and these ingredients have started to spill over into other categories.
All things bright and beautiful
We're now living in a digital age where if you haven't posted a photo of your plate at your latest visit to a great new restaurant, will people believe that you even went!? According to a recent study by Maru/Matchbox, 69% of millennials admitted to taking a photo or video of their food before tucking in. Perhaps those percentages would be higher if people's phones hadn't died: 28% indicate they would stay longer at restaurants if charging stations for electronic devices were available for their phones.
The Food People say that strong visuals add to the multisensory experience and it is a trend that is going to continue to grow. So what better way to please your followers than to sprinkle flower petals in your smoothie bowl or herbal sprigs in your cocktail glass?
Health is the new wealth
According to The Food People, health is no longer just about limiting fat and sugar intake, it's about a whole new way of living. #eatclean has be tagged over 30 million times on Instagram as health gurus and celebrities focus on eating only non-processed, whole and raw foods that take them back to nature. As the backlash against sugar continues, consumers are becoming accustomed to foods that taste less sweet and look for exciting botanical ingredients to flavour their foods.
Global growth
As the influential millennial generation continues to travel much more than their predecessors, they are continuing to look to other parts of the world for exciting flavours. With the growing popularity of Asian flavours across Europe, we're starting to see more floral flavours being used in innovative ways. In fact, over 50% of all retail launches with a 'flora or herb flavour' occurred in the last 2 years.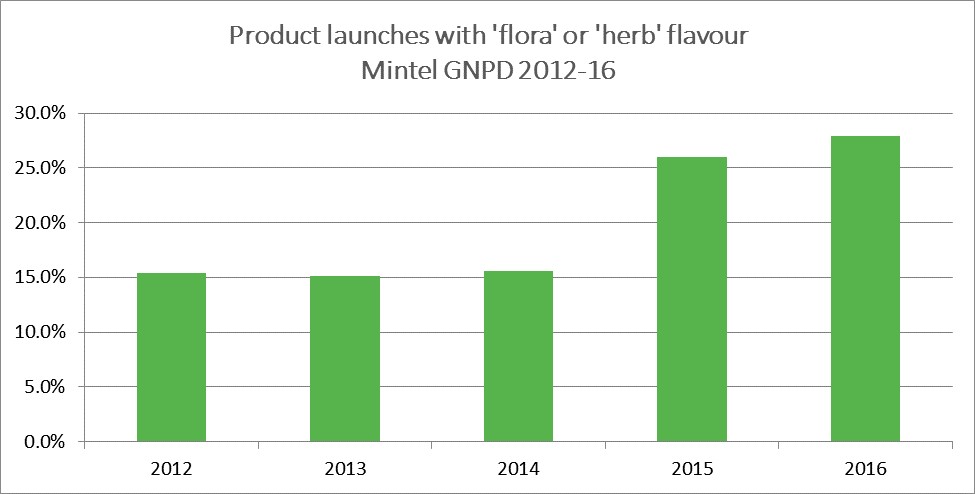 In Europe, the use of flowers as a flavour component is most widespread in Germany, France and the UK. Globally, China accounted for 16% of all product launches with a floral flavour.
The most popular floral profiles globally are jasmine, rose, elderflower, hibiscus and chrysanthemum, but their use varies depending on culinary traditions and where the species originates from. Although these floral flavours have 'home territory' in teas and other beverage products, we're increasingly starting to see floral cakes, pastries yogurts and ice cream coming into the retail space.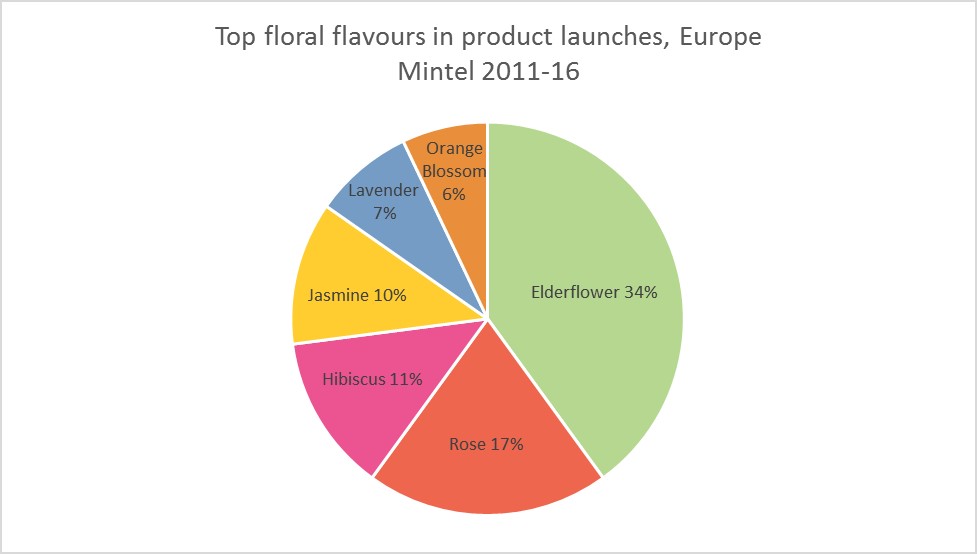 London in full bloom

The capital was full of colour this spring as bars and restaurants celebrated one of the most iconic weeks in the British horticultural calendar. The week of the RHS Chelsea Flower Show saw floral inspired cocktails, afternoon tea and desserts laden with sugared flowers and herbal ingredients.

Asia-Pacific flower power
Although the floral profiles vary slightly in Asia – top flavours in retail launches are jasmine and lotus flower – across the continent they are playing on the same visual appeal as we are in Europe.

Inspiring Flavours
Florals and botanicals pair really well with fruits to add a subtle delicate note of difference in a range of applications including desserts, beverages and bakery products. The floral and botanical trend has a truly global presence and although there are a lot of these ingredients coming through in the UK, we have also looked at ingredients from Asia and across the Mediterranean.
Our expert team have developed a range of inspiring flavours to add a unique botanical twist to a wide range of market products.
Geranium and strawberry jelly
Peach and rose muffin
Apple and elderflower juice
Jasmine and honey cheesecake
If you would like to find out more about how florals and botanicals could add an innovative twist to your products, please contact your account manager today, call 01494 492 222 or email uk.marketing@synergytaste.com
insights