Trending sweet flavours, as selected by Michelin Star Chefs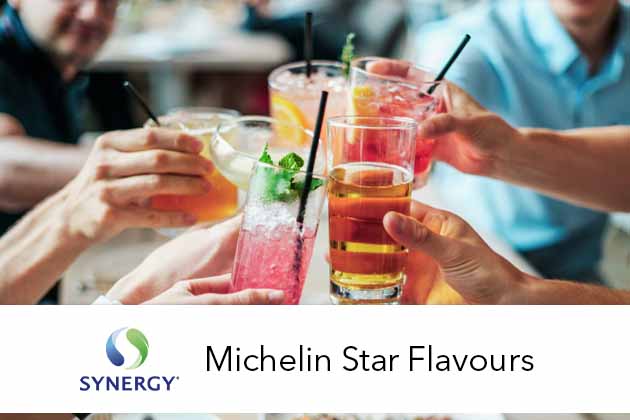 Why is rhubarb a firm favourite with Michelin star chefs this year? Dive into the dessert menus at the UK and Ireland's top eating spots as we pick out the most popular flavours and ingredients.
The MICHELIN Great Britain and Ireland 2022 Guide has been released. The dessert menus at these prestigious restaurants can provide a source of inspiration for manufacturers across the food and beverage industry. We have analysed current menus across all the Michelin restaurants to provide culinary inspiration for future product developments. Our report highlights key trending profiles as well as exploring new ingredients and flavours. The menus include a combination of the latest menus and sample menus. We looked at 49 restaurants however we're unable to obtain menus or sample menus for 10 of these.
2022 saw the addition of a new 3 Star restaurant; L'Enclume. This took the total number of 3 Star restaurants to an impressive 8 across Great Britain and Ireland. This year also saw 22 2-Star restaurants, of which 5 were new. The new restaurants included locations across Ireland with Chapter One and Liath, London with The Clove Club and Ikoyi and also Wales with Ynyshir. 164 restaurants were awarded One MICHELIN Star – of the 164, 19 were new with the list included Frog by Adam Handling – A MasterChef finalist from 2013 who is also on the Great British Menu this year.
Among the 136 different flavours, the top 15 are outlined below: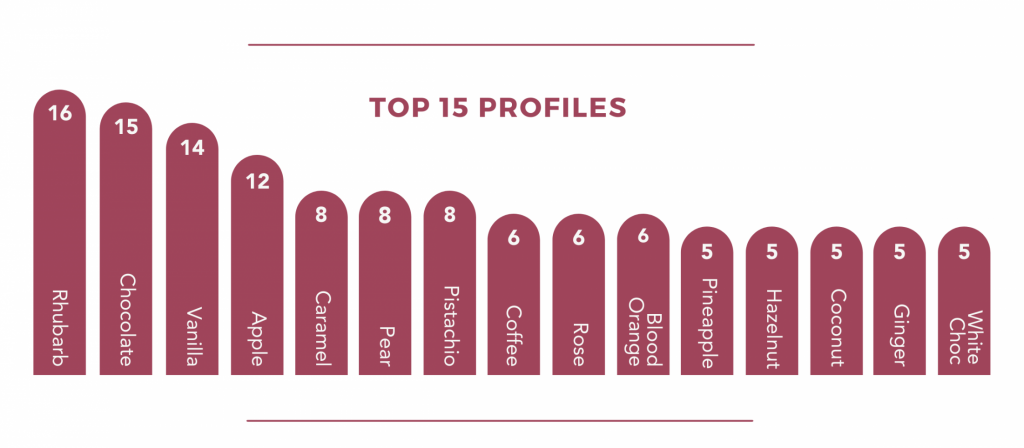 Taking number one spot as the most used flavour is Rhubarb. Despite rhubarb increasing in popularity, it was a surprise to see it as the most used ingredient, and could in part be put down to seasonality with a number of chefs focused on seasonal British fruits. 2 Star Michelin restaurant Claude Bosi paired rhubarb with black cardamom and green pistachio but it seems to be the 1 Star restaurants that were really championing this quintessentially British fruit on their dessert menus. – Meadowsweet in Holt went with the classic pairing of rhubarb and ginger adding a twist with sweet cicely (a sweet aniseed-flavoured herb). Jamavar, a restaurant that explores pan-Indian flavours had a Rhubarb Chuski Falooda – a decadent chilled dessert with rhubarb, basil seeds and saffron.
In addition to rhubarb, Autumnal fruits apple and pear also appeared in the top six. Chefs have been championing pear which is a profile that is often hard to find on mainstream restaurant menus or retail product launches. The sweet and less acidic notes of pear compared to apple make it a great ingredient when paired with a range of fruits, spices, nuts and even indulgent profiles like chocolate. 3 Star, Core by Clare Smyth marry refreshing Williams pear sorbet with verbena in their winter dessert, while Waterside Inn champion Williams Pears in a Souffle with Persimmon coulis. Andrew Fairlie added pear as a refreshing touch to compliment a hazelnut praline parfait with a bergamot caramel.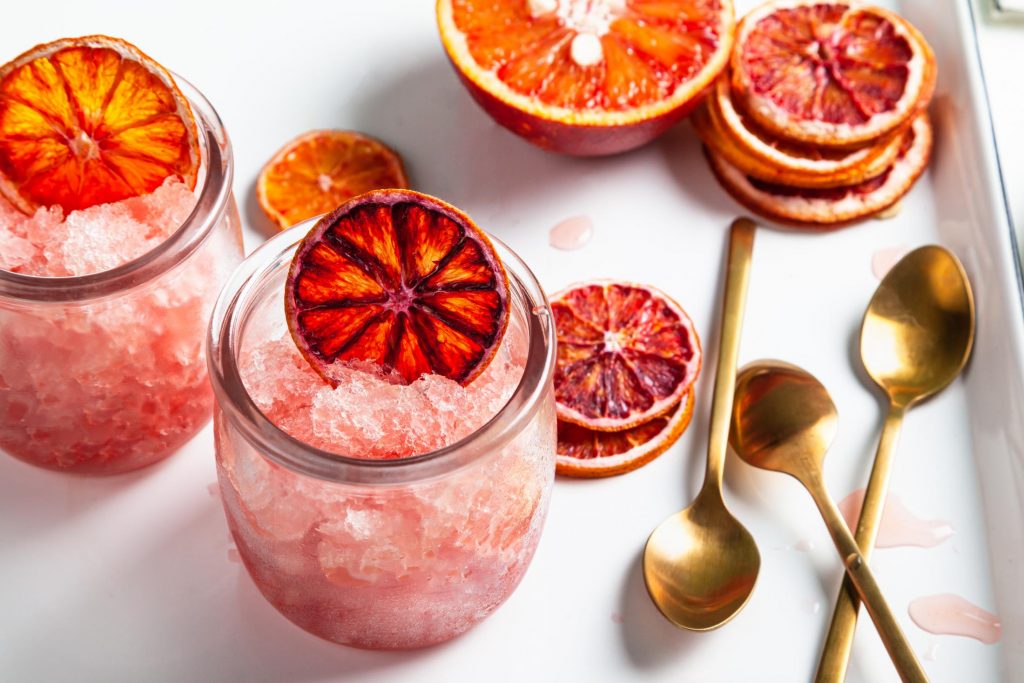 On the contrary to the winter fruits spotted, many chefs were bringing a touch of sunshine with a selection of bright tropical fruits. Despite mango and passionfruit appearing in most tropical retail launches, the Michelin chefs were celebrating sweet pineapple and creamy coconut. Consumer interest in tropical fruits has been rising and was further augmented during the lockdown. People turned to making tropical cocktails at home during the pandemic with the transportive notes offering a sense of escapism and brightness.
We know consumer interest in different varieties and types of citrus fruits are increasing as consumers want something which is familiar with a slight twist. It was therefore interesting to note that Blood orange featured more often than traditional orange and appeared on more menus than lemon, lime or grapefruit. 2 Star, Moor Hall combined blood orange with yogurt, almond and rhubarb. Newly awarded 1 Star restaurant Wild Honey St James ended their dinner menu with a refreshing blood orange sorbet with a crisp wafer.
Away from fruits, the classic indulgent notes of chocolate, caramel and white chocolate were also seen featuring commonly on menus. Michel Roux Jr's two Michelin-starred restaurants used the lighter and sweeter touch of white chocolate ice cream to pair with a hot passionfruit soufflé. Frog by Adam Handling combined the flavours of white chocolate and bergamot in a caramelised white chocolate mousse.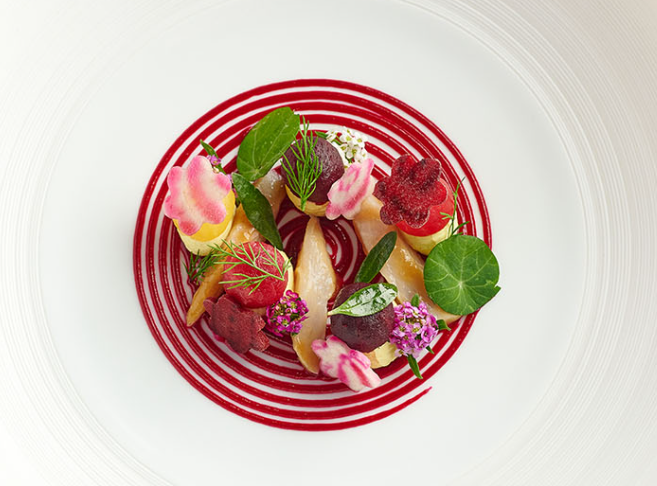 Hazelnut has often appeared as a popular ingredient on restaurants menus and is usually paired with chocolate, a pairing that is now well recognised amongst consumers thanks to a certain chocolate spread. This year, however, it is time for pistachio to take the limelight. 2-Star Da Terra paired a pistachio ice cream with a Cachaça soaked Baba – paying homage to Chef Rafael Cagalli's Brazilian roots. Bridge arms made pistachio the hero ingredient with a baked pistachio cheesecake choux with rhubarb and sauternes.
Rose appeared in the top 10 flavours but wasn't the only floral note to appear on menus – elderflower, hibiscus and jasmine were also present. French restaurant – La Dame de Pic in London paired a rose sorbet with Yorkshire rhubarb, Shiso cream and yellow bourbon coffee. Daniel Clifford's sample menu at Midsummer house has a floral dessert of BBQ English rose, lychee sorbet and artichoke cremeux.
Up and coming flavours
Outside of the top 15 flavours, there were some really interesting profiles and combinations including black sesame, miso, bergamot, Kaffir lime, sea buckthorn and verbena. Honey also appeared as a key feature in 4 desserts. The Glenturret paired honey with a crème fraiche sherbet and pomelo.
insights