Delivering on consumer's expectations for plant-based nutritional products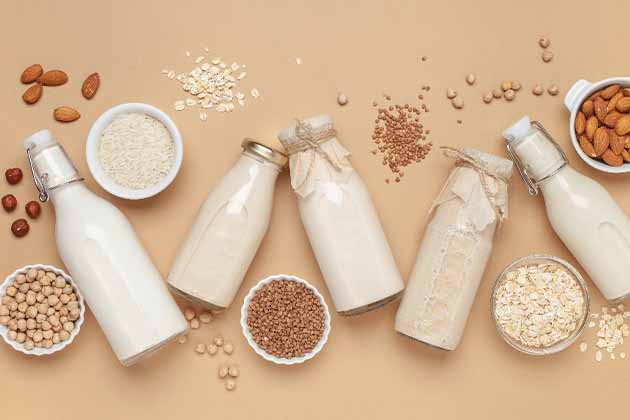 As a leading supplier of flavours for the sports nutrition category, Synergy Flavours invests in on-going analytical and consumer research into understanding plant-based proteins. 
In this blog, Chris Whiting (Nutrition Category Manager, Synergy UK) discusses the growing market for plant-based nutritional products as well as the regional differences and similarities in taste preferences between the UK and US.
An exciting market opportunity
The global plant-based protein supplements market is projected to reach USD 7.4 billion by the end of 2025, with annual growth predicted to outstrip the overall sports nutrition market. Plant-based protein appeals to consumers who are looking to improve their health while at the same time, embracing a more sustainable diet, especially as they take a more holistic approach to their health and well-being.
The increased interest in plant-based protein is evident by the increasing number of products being launched that carry a vegan/no animal ingredient claim.
In the last 6 months to July 2020, 16.5% of total launches in performance nutrition featured a vegan/no animal ingredients claim, an increase of 10 percentage points since 2015.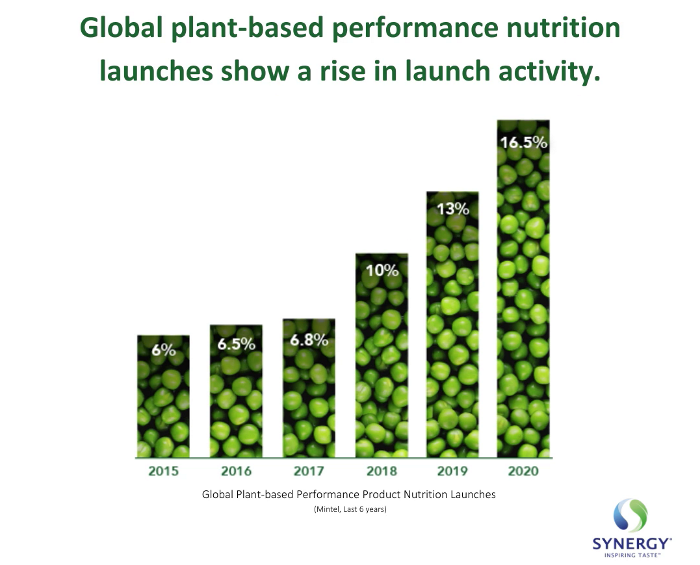 Flavour challenges
Consumer expectations are skyrocketing; they want plant-based protein to deliver on their nutritional targets without compromising on taste. A recent FMCG Gurus Sports Nutrition survey revealed that over 57% of consumers say that they find plant-based claims appealing when it comes to sports nutrition products, however concerns around taste and texture are proving to be key barriers to purchase, particularly as 46% of consumers believe that the taste of plant-based nutrition products is inferior to dairy proteins.
With this in mind, understanding consumer perceptions is integral to creating successful products which is why we commissioned consumer studies on this unique demographic.
Global consumer attitudes
Across the two countries we saw a range of commonalities and differences, but perhaps the most immediately noteworthy one, was how across both geographies we saw similar consumer types using these products.
As part of our screening process we sought to establish a baseline of users, asking our respondents if they had consumed a plant-based bar, shake or RTD. This data was then cross referenced against their attitudes to meat consumption.
Whilst consumers identifying as vegans and vegetarians were more likely to have used these products, because of their low numbers in the wider population, they only accounted for 5% and 7% (respectively) in the US, and 1.5% and 3% (respectively) in the UK.
In fact, we actually saw much greater numbers in people identifying more with flexitarian style diets. In the UK, even those who grouped themselves into the 'committed carnivore' demographic were no strangers to the category, with 25% having used some form of plant-based product (meaning they actually accounted for around 8% of our total panel of users).
Market penetration by format
Globally we're seeing a boom in plant-based innovation, but where is this innovation focussed? And is it in the right place?
Data from Mintel shows the breakdown of plant-based nutrition launches leans in favour of powdered applications.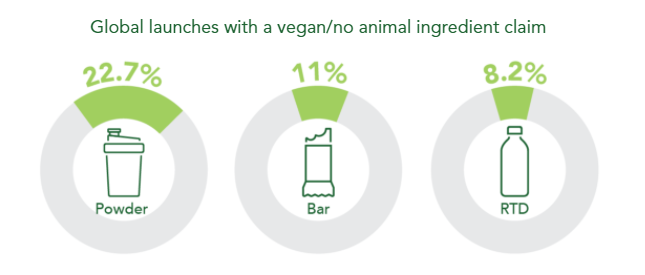 However as the graph below from our consumer survey show, bars actually slightly edge out powdered applications for the top spot in both regions (albeit on a much smaller scale in the UK!).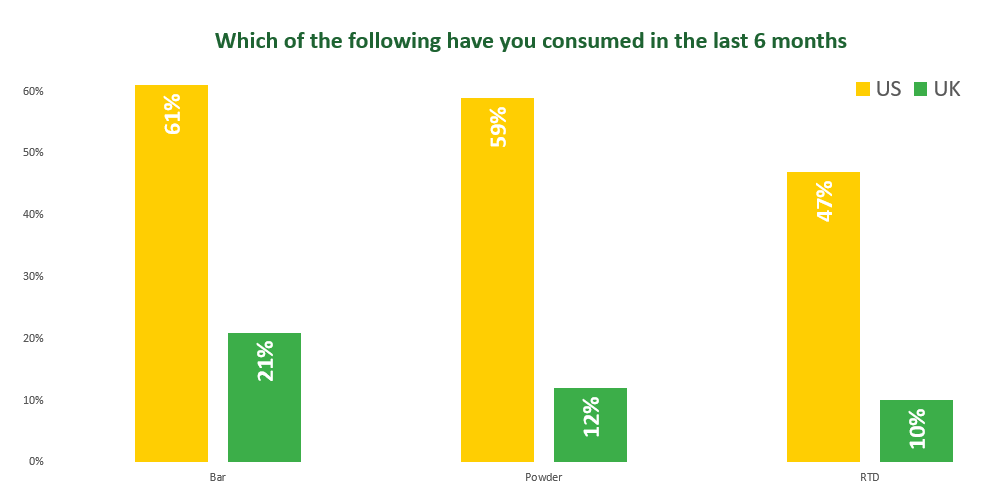 On the face of it, this may come as a surprise given both the number of powdered launches, as well as the fact that according to Euromonitor, powders account for around 45% (in the UK) and 57% (in the US) of sports protein sales.
However, by looking at the different demographic breakdown this becomes slightly more predictable. As we have already established, a significant number of users of these products are flexitarians, giving them choice to switch between dairy and non-dairy based proteins.
As a result, single serve bars give flexitarian consumers a cost effective and convenient entry into the category which allows them to make a positive dietary change, without the risk of finding themselves stuck with a large volume of powdered product they don't find desirable.
Conversely, when we focus in on the vegan demographic specifically, we see a radical change. In the UK, that 12% penetration for plant-based powder application jumps to around 40% as these consumers are more invested in the lifestyle and are more used to the products and the taste profile.
Plant powered excitement
Another key finding from the research was the extent to which consumer interest in this category is driven by a desire for new innovations and taste sensations.
Unsurprisingly, consumers across both geographies highlighted reasons such as health, environmental and animal welfare as key drivers for their choice to select plant-based options.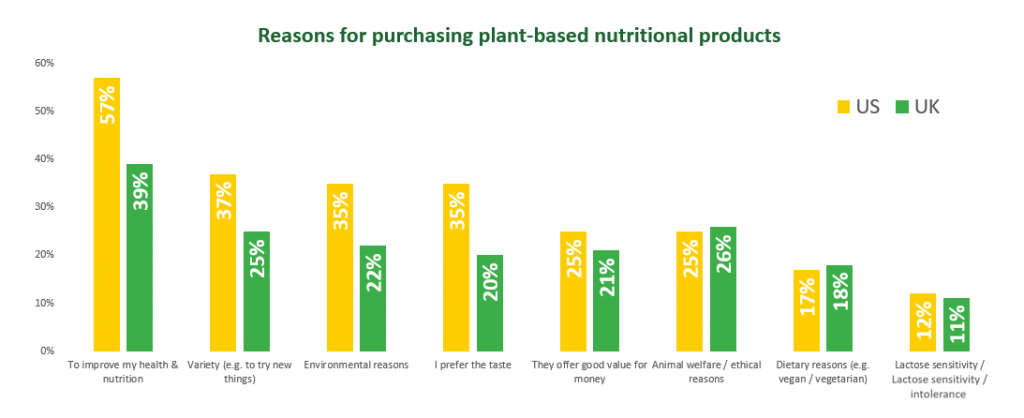 However, for a certain number of respondents, the drift towards plant-based products was driven by sheer curiosity. In the US 40% of respondents and in the UK, 26% of respondents said they consumed plant-based proteins in their quest for variety. Something which is reflected in the preferred flavour choices.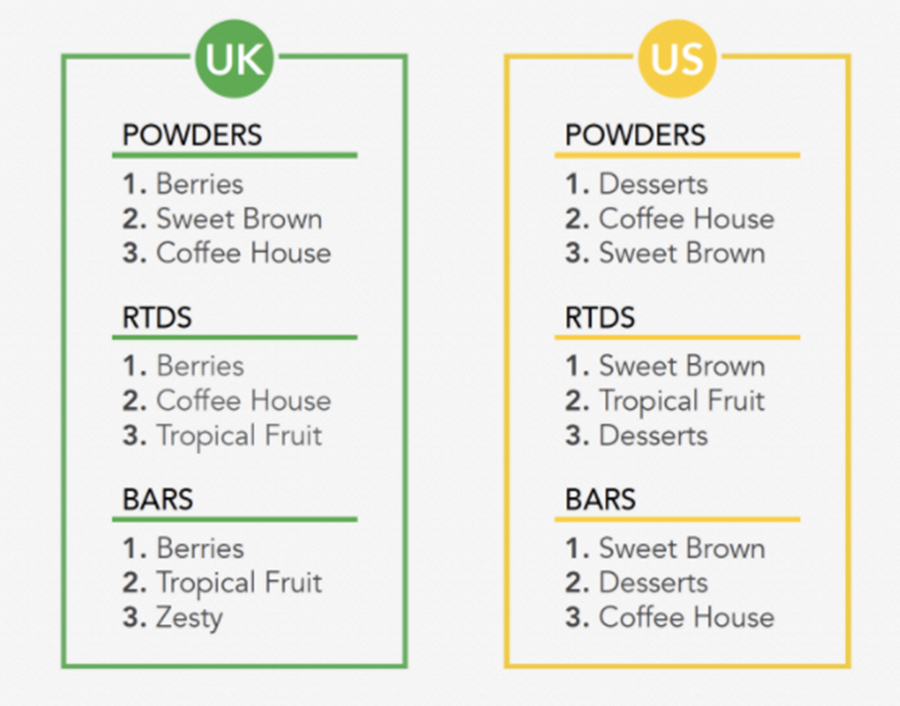 Flavour variety is key to unlocking mass market appeal
As the image above shows, there is definite interest for a broad range of flavours, and as with the wider nutrition market – because of the frequency of which consumers are using these products there is a demand for a broad portfolio to avoid any long-term flavour fatigue.
In the US we see a definite trend towards more indulgent profiles (across all categories) whereas in the UK we see fruity profiles becoming a bit more prevalent, and a greater differentiation between the different categories, for example the bar category where all three of the top flavour groups are fruit based.
Crucially, however, there is broad demand for all of the flavour groups. Even those outside of the top three tended to resonate well with consumers indicating the need for variety across a product range.
Flavour preference varies between people depending on the day, timing, or even season. Even a consumer with the sweetest tooth will have days when they crave fruit profiles rather than indulgent desserts, so offering one or two flavours within each of these groups is a good way to ensure all of your bases are covered!
Formulating for plant-based protein products
Formulating plant-based protein products can be challenging! There are a plethora of taste challenges to overcome, some of which can vary depending on the source of the pea protein!
At Synergy we are committed to plant-based research to enable us create tailored taste solutions which give our customers the best chance of successful product delivery.

Read More about our unique analytical approach to flavour creation on our whitepaper.
insights