In the 'sport-light' – how key global sporting events could drive interest in Japanese food & drink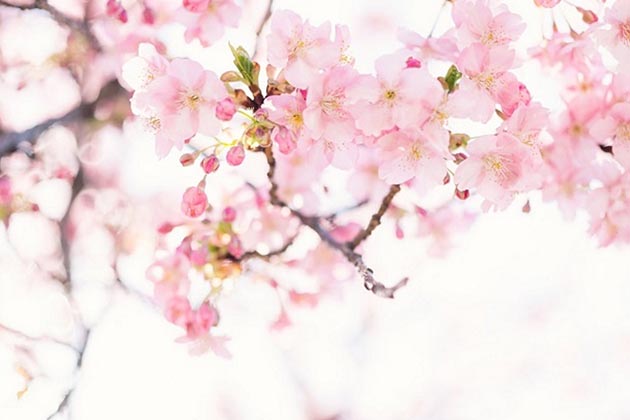 As the Rugby Cup has come to a close it is expected that the world will be continuing to watch Japan this year as it hosts the 2020 Summer Olympics, and we expect that people will want more than just a taste of the action.
Sporting events are well known to influence trending flavours, in 2012, when the Olympics were held in London there was a proudly British theme echoing the support of the host nation. Product launches were a celebration of Brazilian flavours both for Rio 2016 with Dulce de Leche becoming mainstream and the 2014 football world cup saw a 17% rise in passionfruit launches in the run up to the event.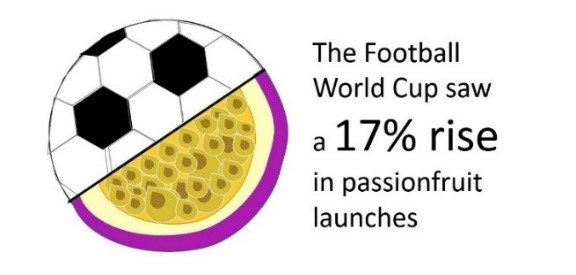 This now mainstream flavour has continued to grow since 2014 with launches of passionfruit flavoured products growing year on year across several categories.
All shook up released passionfruit martini in 2.25L boxes ahead of summer 2019 and Onken have released Passionfruit Yoghurt showing the flavours adaptability across categories.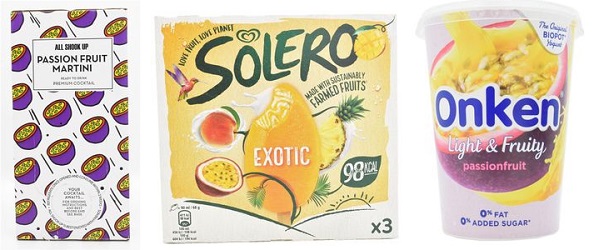 Product Images from Mintel GNPD.
In 2018 the Pornstar Martini, a passionfruit-based cocktail knocked the Mojito off the top spot to become the UK's favourite cocktail accounting for almost 15% of cocktail's served in the UK, according to research by CGA. (CGA Mixed Drinks Report Q3 2018)
The adoption of passionfruit is very promising for anyone looking to innovate around the Japanese trend as it shows that we could easily see a flavour profile such as cherry blossom take the spotlight and burst into the mainstream!
But interest in Japanese cuisine is nothing new…
As well as being in the spotlight currently, sales of Japanese, Vietnamese and Malaysian foods have been on the increase for the past number of years and were valued at £51.8m in 2018 making it the second fastest growing cuisine. 67% of UK consumers have either eaten or are interested in eating Japanese cuisine according to Mintel in 2018.
This trend is being driven by more consumers than ever travelling to Japan (2.9 Million in June 2019 alone, with a predicted growth of 9% to 270,000 travellers from the UK in 2019, according to gov.uk) and a general healthier perception surrounding the cuisine.
We expect to see a significant rise in interest across several retail categories such as meat, ready meals, snacks, confectionery and desserts. This will likely be further driven by marketing pushes from delivery services such as Deliveroo and Just Eat and the influence of Japanese chains on the high street such as Itsu, Wasabi, Yo! Sushi and Wagamama.
History of Japanese cuisine
According to a recent Forbes article, Tokyo has the highest number of Michelin star awarded restaurants with 304 stars, overtaking Paris at 134, but what makes this cuisne so steeped in history the choice of modern consumers?
Japanese cuisine embodies traditional recipes and ingredients, in 2013 UNESCO registered Washoku as an intangible cultural heritage of humanity. Washoku translates literally as Japanese Food and according to Wikipedia it includes rice with notable dishes including miso soup. There is a strong emphasis on seasonality, grilled and deep-fried seafood, vegetables prepared by either pickling, being cooked in broth or deep fried in light batter (tempura).
Arguably one of the most recognisable point of Japanese cuisine is Sushi, although known worldwide today, it can be traced back to 8th century Japan, known as narezushi which was a fish preservation technique where the rice was discarded, vinegar was added to the rice and became a part of the dish in the later variant, namanarezushi. Today it is a mainstream dish with the USA, France and the UK featuring in the top 10 for market launches in 2018 contributing to the 510 launches globally in 2018 in comparison to 412 in 2017. That's a 23% increase, according to Mintel GNPD.
As this dish has entered the mainstream sushi brands such as Yo! Sushi have flourished, opening 100 restaurants since 1997 and more recently announcing its new style of dining focused on pub style 'kyoyu' which means sharing.
What's on the table in Japan?
Famous for their attention grabbing, Instagram worthy dessert creations Japan has a lot to offer the dessert world. They have a strong love for desserts with many recipes dating back hundreds of years yet an innovative and somewhat wacky approach to flavour profiles evident in their range of over 200 KitKat flavour profiles, from apple to edamame.
But 'instagrammble' food trends aren't just for those with a sweet tooth, #ramen has been used over 8 million times on Instagram. Referencing the Japanese dish which translates as 'pulled noodles', ramen is often served in a fish or beef based broth and topped with a variety of meats, vegetables and eggs.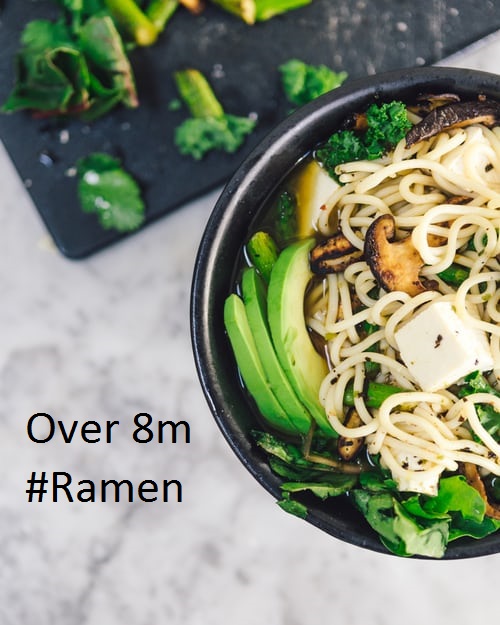 Japan may have been ahead of the veganism trend with, Yuba, the Buddhist meat alternative, made from bean curd skin, which has been used for centuries.
Hokkaido Milk is a premium milk from the northernmost island of Japan, accounting for 53% of the country's milk production but alongside volume it is synonymous with quality. More information can be found by reading our blog on the growth of Hokkaido milk products.
At the 2019 London Cocktail week, people where invited to make their way through a traditional Izakaya alley by House of Suntory to enjoy a selection of Japanese spirits.
Flavour Forecast

We expect to see a rise in Japanese flavours and product launches across categories in the coming year and it is likely that the buzz surrounding the Olympics will carry these flavours and dishes into the mainstream for many more years of growth.
Are you looking to add exciting Japanese flavours to your range, either as a limited time offering, or a permanent one? Why not speak to our team to find out more.
insights