Low and No alcohol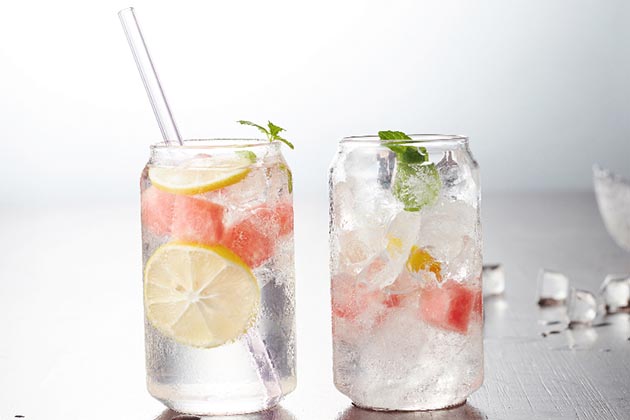 Low and no alcohol is an emerging trend in the beverage sector set to shake up the landscape and people's perception of social drinking.
According to data analyst CGA, on-trade sales of low- and no-alcohol drinks almost doubled in the last 12 months in the UK having risen 48%, meaning more than ever people have been asking for a non-alcoholic option at their local pub, restaurant or bar. Furthermore, the increase in supermarket launches has seen a rise in people enjoying these beverages at home, experimenting with their favourite cocktails or spirits but without the alcohol.

With the Covid 19 Pandemic attitudes to alcohol are constantly changing, although there have been reported spikes in sales some surveys by charity Alcohol Change UK found that even with 21% of consumers drinking more, nearly half of those who where already drinking less have further cut down or abstained from drinking.
It is difficult to predict, but the Covid 19 Pandemic may push low/no to the forefront of peoples mind if they:
– Are concerned about improving general health & Wellness and therefore Immunity
– Are likely to follow patterns of overindulgence followed by reduction.
A recent CGA report titled Understanding Moderation in On-Trade valued the UK no and low alcohol category at £60m and the US at $78m.
The notable presence of craft brands could be attributed to the young adults driving the growing category. The decision to ditch alcohol has certainly paid off for brands like Big Drop, a craft brewery based in Ipswich that has seen big growth with its pale ale, IPA, and their award-winning stout.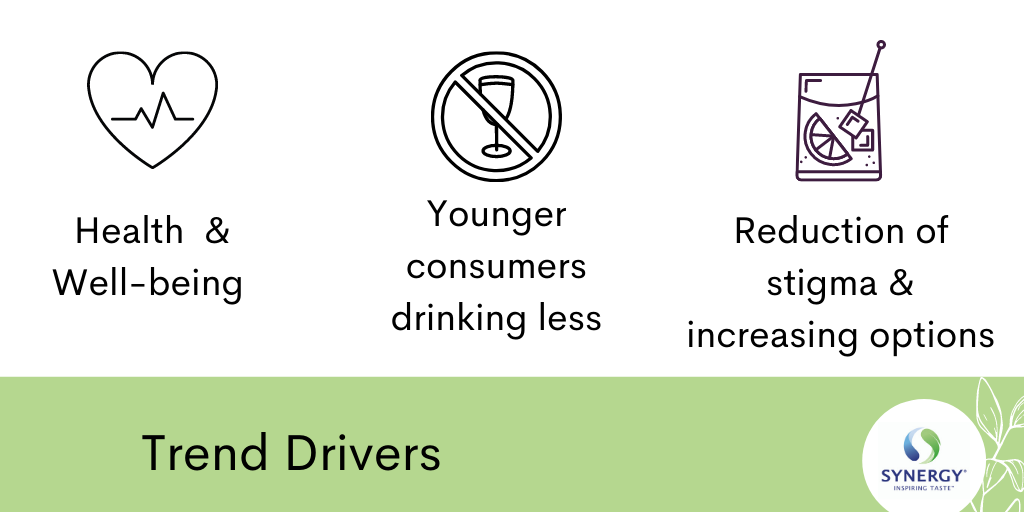 Health & Wellness
Mintel's February report into attitudes towards health and wellness showed that 75% of those surveyed agreed that eating healthily makes them feel good, and a further 52% believe brands that are making efforts to reformulate their products to make them healthier are more appealing than those who haven't. The success of alcohol-free variants of well-known products could be attributed to this change in consumer attitude, where 41% of adults are now looking to reduce their alcohol consumption according to Mintel.
People are doing this in a number of ways, such as adopting drink free days, swapping some drinks out for non-alcoholic options when on-premises, or cutting out alcohol altogether
Synergy US looked at attitudes towards alcohol and wellness amongst consumers aged 21 to 65, and noted , regardless of alcohol intake, consumers view alcohol as having a moderate to very high impact on total health and wellness. Despite this acknowledgement, 17% of respondents note they are drinking less now than they were a year ago. This could be attributed to the perception of alcohol as a potential wellness barrier, a notion commonly held by younger consumers across the globe.
Younger consumers are drinking less
A large driver to the rise in teetotalism is the change in attitude of younger consumers as 18-24-year-olds choose to drink less alcohol, according to the British craft beer report, 1 in 3 young adults have cut down on their alcohol consumption.
KC Kuder, Marketing Communications Specialist, Synergy US, highlighted how younger consumers are driving the low/no alcohol boom. "This power of younger consumers in the alcohol industry was evident in the recent rise of Hard Seltzers in the US which are now becoming popular in the UK." Find out more by listening to our Trend cast here.
The Synergy US study found consumers making more personal and emotions driven purchases with factors like occasion, activity they are drinking at, where they are drinking, and wellness being considered more influential than ABV. Younger consumers are willing to experiment with different types of beverages that offer altered mood-states, offering a unique position to low/no alcohol beverages to focus on ingredients and formats that are suited to mood or wellness.
A reduction in Stigma and increased options.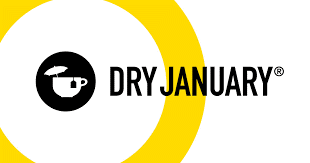 In 2020, more that 4 million people took part in the dry January campaign, and reported many benefits from cutting down on their alcohol consumption, including 86% saying they saved money and 70% having better sleep.
Campaigns like club soda, a mindful drinking movement which through leafleting campaigns in bars across the country, petitions to parliament, blogs, recommendations and events, have worked to reduce the stigma around 'missing out' when choosing not to drink alcohol, and expanded alcohol alternative options . As those options have increased, it has allowed 1 in 3 adults in the UK to try a non-alc beverage in the last 6 months (CGA's year ahead report), with 20% stating they found the category appealing.
Brewdog has opened a completely non-alcoholic bar in London to appeal to the range of consumers for those who want a weeknight social activity without the hangover the next day.
Who is drinking low/no?
The Low/No alcohol trend would have appeal with a variety of consumers, such as the Rebalancer who might want cut down on alcohol, particularly mid- week, or the Game Changer, as new craft brands start experimenting with flavours and functionality.

We tasted over 20 low alcohol and alcohol-free beers currently available in the market with our technical, flavourist and sales teams, noting popular flavours and how realistic the profile was. Below is a selection of the most popular choices and profiles!
Below are some of they key notes we identified from some of the best non-alcoholic beers we tasted over the session.

The Trend Hub has reported an increase in tasting experiences, including non-alc options as they allow for a different depth of flavour. But what are the most popular options? The initial focus on beer has switched to cocktail profiles and sophisticated Aperitifs, such as Highball non-alcoholic cocktails or Seedlips Nogroni, and whole host of spirits following Seedlip.
Natural and botanical flavours, including herbs and spices, help to highlight the health halo of these drinks and their calming nature, perhaps to replicate the soothing effects of alcohol. Citrus and tropical flavours like passionfruit have also been trending across several food and beverage categories, reflective of the current top 10 flavours in alcoholic beverages globally. (As shown Below)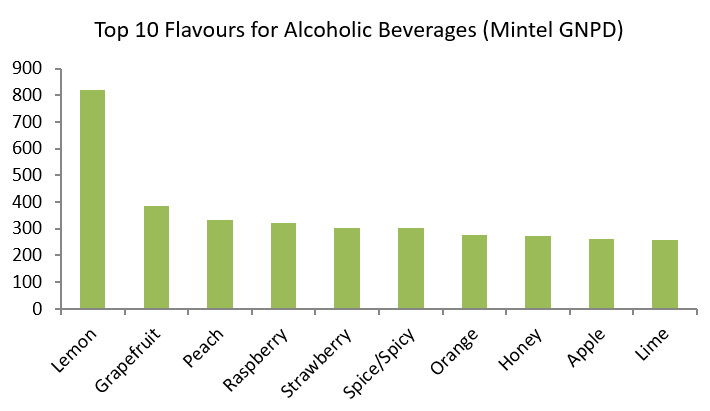 Delivering the botanical & floral notes consumers have come to expect from some alcoholic profiles can be challenging, however Synergy Flavours has a number of solutions to perfectly cultivate your mocktail or non-alcoholic spirit. 
Geranium, rose and lavender extracts deliver light floral characteristics. Paired with a tea essence – black, white and green tea, for example – can also support these fragrant floral tones with a balancing crispness. Herbal extracts can be used to give a leafy, herbaceous complexity– i.e. mint, basil and rosemary. Cucumber essence delivers a refreshing green character that enhances herb extracts and other fruits.
To contrast the fresh green and floral profiles, we have spice & smoke flavours that add depth and aromatic notes, such as ginger, cardamom, chilli, and nutmeg. Our Synergy Pure® water-white oak essence delivers a premium sweet, smoky wood character when used as a top note in alcohol. Vanilla extract can also be used to deliver smokiness and a balance of familiar sweetness.
Citrus is an important flavour to consider across alcoholic beverages. Despite previously being 'veterans' in beverages, blending different citrus extracts can add a refreshing twist in non-alcoholic drinks. Blood orange, mandarin, pink grapefruit, and Persian lime extracts can all elevate their status.
The warming sensation provided by alcohol can be linked to the relaxation people enjoy and therefore replicating this has become paramount to non-alcoholic drinks. Primary research from Synergy US shows that when tasting a mocktail, 50% of those surveyed stated they desire mocktails that taste true to cocktail. Synergy can help to replicate this experience by using blends of extracts and natural flavours. Certain extracts can trigger the same receptors as ethanol and can thus help to mirror a similar response to when alcohol is consumed. Other flavouring preparations and substances can also be used to deliver additional warming and tingling affects.

Cross Category and Cross Celebration
As the options for non-alcoholic drinks start to sit across a range of categories, there are more and more opportunities for seasonal varieties. The alcohol-free bar Redemption in London reports record levels of corporate holiday party requests in 2020. As such, it is likely consumers will start looking for their festive favourites in non-alcoholic options, and may be willing to pay more for it too, as 87% of consumers buy food specifically for Christmas (Attitudes Towards Seasonal Food, Mintel 2019).
There are opportunities in smaller occasions, too, as exemplified by Fortnum & Mason's For The Love of No Hangovers Kombucha and Aecorn's display for Valentine's Day.
Adult Soft Drinks
A recent Mintel report revealed the number of non-drinkers' opting for an alcohol-free variant to be modest, indicating that not all non-drinkers want authentic profiles which leans into the idea of more sophisticated soft drinks. In the same primary research study from Synergy US, 25% of respondents desire mocktails that taste like something new, not like a traditional cocktail with alcohol.
Pink Gin
Flavoured gin launches have increased by over 750% and it could be that non-alcoholic varietals could follow suit. Download our 2020 Gin report to find out more.
White Tea
A 2021 inspiring flavour that has already been seen in several non-alcoholic cocktails find out more by downloading the full report.
Rum
As rum has been moving into the mainstream it is likely non-alcoholic variants will follow, read our review of a rum festival to find out more about the growing trend.
Mocktails
The US has seen a movement from high sugar mocktails to brands such as Havana twist with apple cider vinegar, or Kin which has added nootropics for focus. When asking consumers what they would like to see within the mocktail segment, Synergy US found that 49% of respondents look for low calories and sugar; 43% would like to see higher quality ingredients used, and 33% are interested in functional ingredients.
Half of UK cocktail drinkers are now engaged with the low and no alcohol arena. Mocktails have a huge role to play in the future of the mixed drinks market (CGA). Whether it be the at home mixologist looking for a healthy alternative or the consumer that wants to try something different 2020 could be the year where mocktails go mainstream.
Trends have ranged from traditional tropical, cucumber and herb profiles, to spices, fantasy and even tea/coffee infused.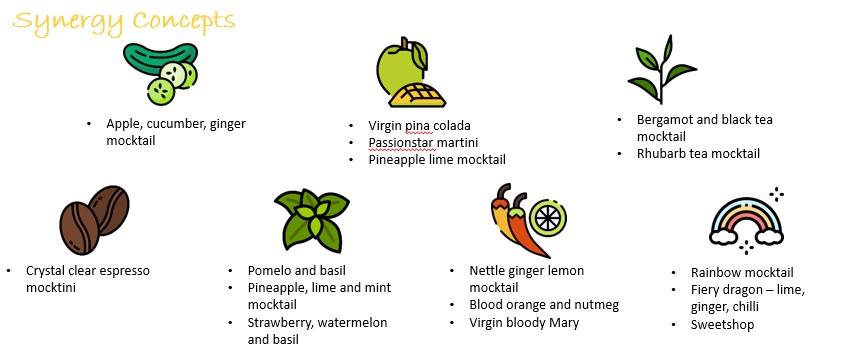 With the popularity of low/no alcohol increasing globally, Synergy can help you formulate and develop great tasting beverages to capitalise on this trend. By pairing core flavour profiles with botanicals and signature notes to deliver high impact flavour. Contact the team today to find out more.
insights