Flavors of the Future
Rising stars of flavors for sports nutrition
Your new flavour forecast
Innovation is the lifeblood of success. Nowhere is this more evident than in the sports and performance nutrition market, where savvy consumers actively seek the latest nutritional science delivered in new and interesting formats and flavours.
According to data from Mintel, the importance of flavour is a key purchase driver – over 75% of consumers are influenced by flavour choice when purchasing a sports nutrition product – so creating innovative flavours for this market must remain a priority for any brand looking to thrive.
As part of our ongoing flavour exploration journey and following on from last year's exciting flavour trends, which took its inspiration from the Mediterranean, this time the research has turned to East Asia to uncover a hotlist of ten emerging, growing, mainstream and established flavour trends with growth potential in the global sports nutrition market.
Once again we have utilised world class trend data, including recent product launches, internet search trends and social media to identify trending flavours in and around East Asia, which could add some taste appeal to many sports nutrition products over the coming years.
Which trends are set to shape the winning flavors of tomorrow? How do we separate the fleeting from the enduring? What will make my products stand out? These are among our favorite conversations.
So, we set out to devise our hot list of the rising stars of flavors for sports nutrition. Our journey of discovery begins with the flavor zeitgeist, harvesting ideas and inspiration from influential bloggers, food writers and futurologists. Then we benchmarked with real data such as product launches and global search trends.
Finally, our experts in flavor and sports nutrition assessed and refined to create our hot list; only those that they felt had true potential in the market making the final cut.
The population of East Asia is in excess of 1.5bn with roughly 20 million diaspora globally. As a result, the region is enormously influential globally and has been on the spotlight for the past few years.
In the Flavors of the Future report, we will be focusing on Chinese, Japanese and South Korean cuisines. Chinese food, in particular, is well established, with a 43.9% operator penetration in the US, according to Technomic. Japanese and Korean cuisines are more niche, with 27.1% and 7.3% penetration rate respectively, but are trendy and growing in popularity.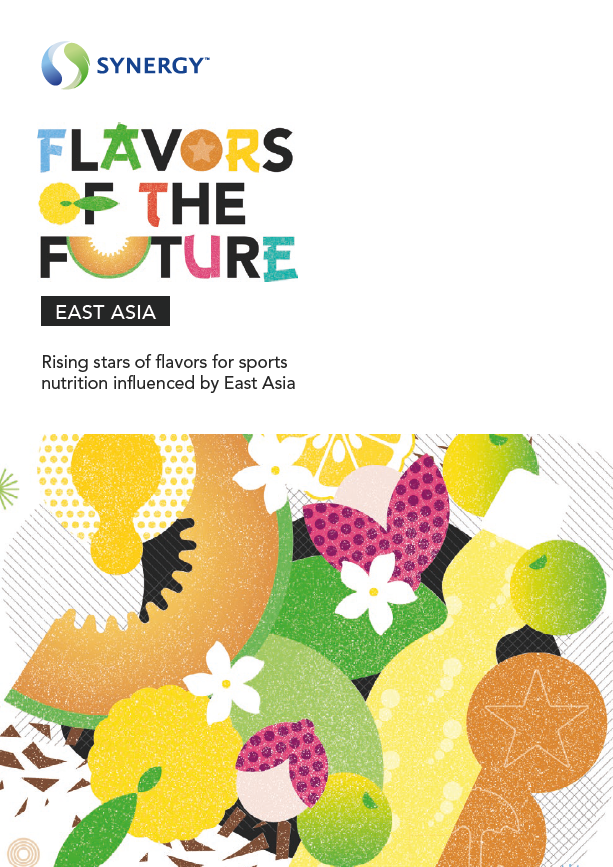 Flavors of the Future 3 – East Asia Full Report
Download