2022 Food and Drink Trends | Part Two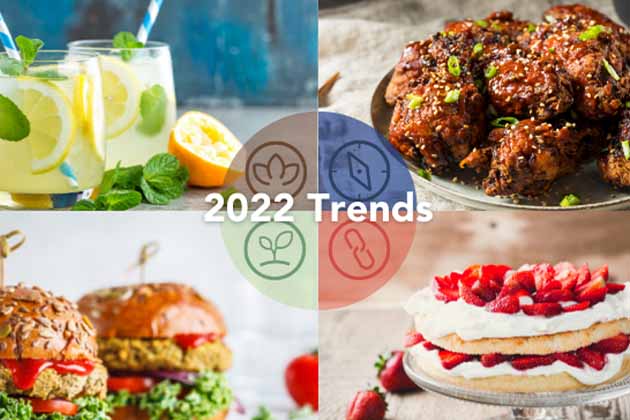 When Synergy revealed four key trends that would shape the future of food and drink for 2021-2022…
…many of these trends were linked to the COVID-19 pandemic and subsequent restrictions on consumers' everyday lives. While the Covid-19 pandemic is still having an impact on consumer behaviour, new driving forces are also shaping the future of food and drink. In part two of our trend refresh we revisit two of the key trends of 2021-22 and highlight how they are driving food and drink trends in 2022 and beyond. To read part one click here. 
Adopt the pace of nature 2.0
HFSS brings fat salt and sugar into the spotlight
2022 will see the introduction of new regulations that restrict the marketing of foods high in fat, sugar and salt (HFSS). There are already products coming to the market that are non-HFSS and many manufacturers are facing pressure to reformulate products, particularly in bakery, desserts and ready meals, where sugar, salt and fat levels can be particularly high. Brands and retailers in the soft drink segment will be looking to reduce sugar while maintaining natural label declarations which may lead to an increased use of natural sweeteners like Stevia. Across food and beverage categories we might also start to see the use of less sweet flavours like grapefruit, cucumber, herbs or botanicals which work better on lower sugar recipes.
HFSS guidelines will create huge challenges for manufacturers in 2022 and beyond as they race to create compliant products. Whether manufacturers decide to reduce sugar, salt and fat or add healthier ingredients like protein, reformulation will present a number of taste challenges that will need to be tackled with flavour and texture solutions to bring them in line with consumers' taste expectations.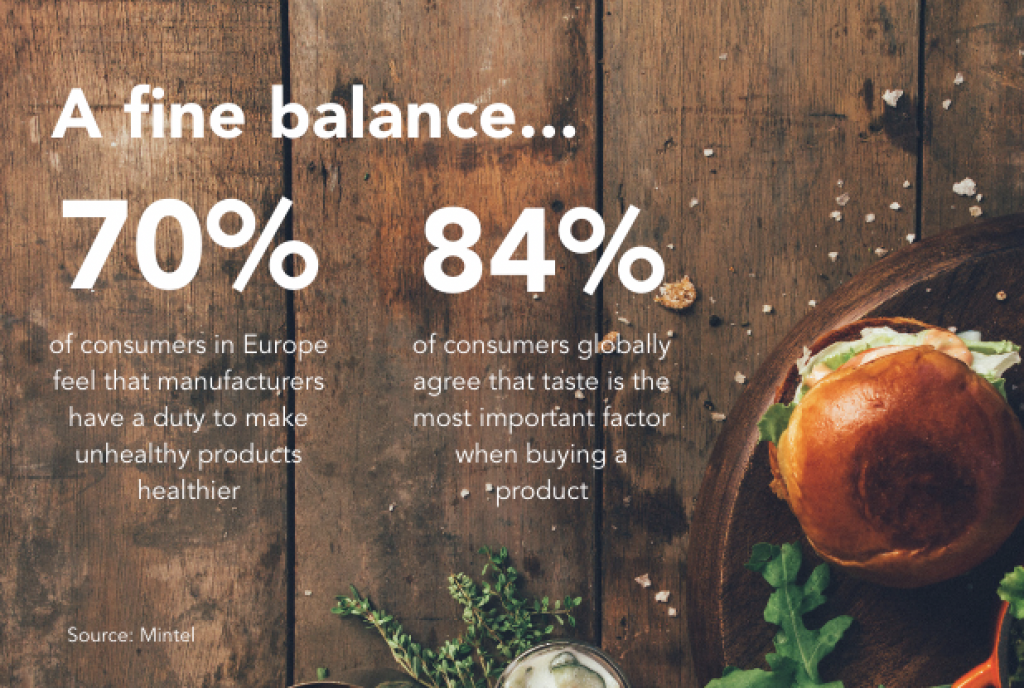 Functional food and beverages
Consumers are looking to food and beverage products to play an increasingly functional role in their day to day lives. For example, in recent years, increasing numbers of people have turned to energy drinks to improve their energy levels. According to research from Mintel, 39% of consumers would prioritise low/no sugar and 35% would prioritise natural ingredients when choosing an energy drink. The market is currently fairly limited, with sucralose, aspartame and ace K (acesulfame potassium) being the preferred sweeteners for many brands. It's likely that more energy drink brands will position themselves as providing natural, healthier products by using stevia, fruit juices and depictable flavours.
There's also likely to be a continued focus on drinks that go beyond the physical benefits of energy, with a focus on relaxation, memory/concentration and fatigue. Halo flavours such as lavender or rosemary extracts can help to increase the natural positioning.
Hold the alcohol
The low and no market is predicted to post growth of 67% over 2021-26, reaching sales of £286 million (Mintel). On-trade will continue to take more note of low and no beverages and according to Euromonitor are anticipated to increase their volume share to 10.5% by 2025 (currently at 6.5% in 2021).
Millennials and drinking age Gen Z consumers are driving the growth of this space and we're expecting more innovation in the category throughout 2022 and 2023, with more exciting flavour combinations mirroring the activity in alcoholic products. It's likely we'll see provenance claims featuring highly across brands to increase transparency, as well as to elevate messaging to consumers and command a higher price point. Find out more about the low and no alcohol trend here. 
 Adventure awaits 2.0
Exploration and travel halted throughout the pandemic, but that doesn't mean consumers' sense of adventure and fun diminished, it just had to be adapted! Consumers became chefs, bartenders and baristas from the comfort of their homes. As the world opens up and moves towards a post-pandemic future, the adventures don't stop there! In fact, YouTube saw a 45% increase in searches for cooking videos throughout 2020 compared with 2019. Armed with new cooking skills and knowledge of global cuisines, we would expect to see further growing interest in world cuisines long after the pandemic restrictions ease.
East Asia
The cultural influence of Asia continues to grow at pace, with consumers' growing interest in the food, fashion and film of Eastern countries. Japanese food is already well-loved globally, and there has been an increase in Japanese fusion cooking, particularly in the dessert space with things like mochi-doughnut hybrids and miso caramel for a twist on the classic salted variety. Social media has had a strong influnce on the Asian dessert and drink trends we have seen come to Europe over the past few years including the TikTok sensation of 2020 Dalgona coffee and Dalgona candy as seen on hugely popular Netflix series Squid Games.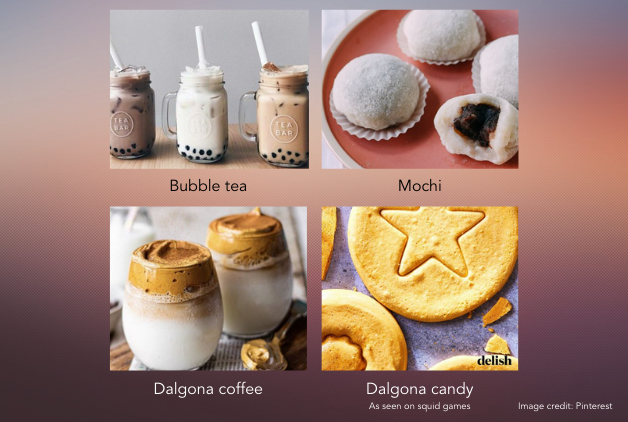 However, it is Korea that is truly in the spotlight across Western countries with Korean culture (K-culture) particularly popular thanks to K-pop music becoming mainstream in the UK. Dishes like Bulgogi (Korean BBQ beef), fried chicken and tteokbokki (spicy rice cakes) are already starting to appear on menus, so we would expect to see further growth and interest in this cuisine throughout 2022 and beyond.
Middle East
Interest in Middle Eastern food and flavour has been growing globally for a number of years but has recently had a boost from the growing number of vegetarian and vegan diets which feature classic Middle Eastern dishes like falafel and hummus. Celebrity Chefs like Yottam Ottolenghi and Sabrina Ghayour have really brought Middle Eastern flavours into the spotlight with simple, wholesome and flavourful dishes. Expect to see more spice blends like Za'atar and Harissa appearing on shelves and flavour combinations like lemon and mint or pomegranate and honey as middle Eastern flavours grow in popularity.
Take a look at our latest trendcast episodes on YouTube and connect with us on social media to be in the loop on all the latest trends!
insights