Christmas 2019 in a Chest-nutshell and 2020 Predictions
As everyone is polishing off the last of the mince pies, we take a look at what was a hit on the shelves this Christmas and the flavours to look out for as we look ahead to Christmas 2020.
It's no secret that consumers want something special for the festive period with 87% of consumers buying food for Christmas and 44% looking for indulgent options. (Attitudes towards seasonal food, Mintel 2019).
We only need to look at the battle for best Christmas advert each year to see how attitudes are changing towards the festive season, Aldi's Kevin the Carrot was entered the Museum of brands towards the end of 2019 as an Icon of the UK.
People are prepared to spend more money so what stood out and what flavours will we see continue into 2020?
Synergy's top picks of 2019
There was an 11% increase in seasonal launches from 2018 to 2019, with a 9% increase on launches in December and here are our top picks of the most innovative new launches of 2019.
2019 Notable Trends
With thousands of launches in the lead up to the festivities a few trends shone through. We take a look at those that made their mark in 2019 and are likely to continue to grow in the lead up to Christmas 2020.
Retro Revival
Product launches may have reflected people's uncertainty and aspiration to return to the comfort of their youth, but they certainly didn't focus on simplicity. Nostalgic flavours traditionally associated with Christmas were seen in a range of products, such as prawn cocktail or cola &ham crisps (Tesco) or after dinner mint, chocolate orange and Irish cream desserts and coffees (Mr Kipling, Sainsburys and Costa)
According to Mintel, 75% of people would serve shop bought dessert to guests but with 62% saying they require a wow factor there have been some 'new look' 70's deserts on the market this year. Baked Alaska was upgraded with a raspberry sorbet centre for M&S and Sainsbury's released a recipe for an espresso martini trifle.
We predict a continuation of nostalgic themes in 2020 with a focus on flavours like orange and marmalade and not just because Paddington 3 is due for release! Marmalade cakes have been spotted in retail and foodservice throughout 2019 and clementine was one of Coca-Cola's 2019 seasonal flavours.
Raising the Game
Following on from the idea of a twist on tradition, which 47% of people agree is appealing according to Mintel.(Attitudes towards Seasonal Foods,2019) This past Christmas was all about that little something extra whether it be the addition of gold dust or new depths of flavour.
Pigs in blankets were celebrated with a sprinkling of gold dust (Farminson & Co) as a pizza topping (Twisted) or made 2m long (Aldi). You could have gingerbread flavoured mince pies (Lidl), sloe gin flavoured mince pies (Asda) or mince pie flavoured Gin! (Asda) Cream came in every flavour from trifle or clementine to pink gin or espresso martini. These festive fusions added that extra indulgence people were after and the opportunity to extend the festive eating to midweek meals.
Raising the game isn't limited to the flavours with an importance placed on how 'Instagram-able' a food is, 33% of UK 18-24-year olds use their social media to take pictures of food.
We expect to see a focus on table theatre in 2020, with ruby chocolate and variations on caramel featuring in ranges particularly for festive launches and the UK Bakery market has forecast caramel to rise by 7% by 2021.
One and all
This year was an all-inclusive Christmas for those who follow plant-based diets and those with allergy restrictions alike.
Vegan Christmas sales up were by 40% and plant- based alternatives entered the top five choices for Christmas day. Starbucks released a very merry vegan wrap, there was vegan party food across the supermarkets and range of festive tarts including root vegetable (M&S) and Carrot & Thyme (Sainsbury's) and even vegan pigs in blankets (Morrisons). Dessert was covered too with no-moo chocolate snowflake (Iceland) and raspberry and clementine jelly (Sainsbury's) 
Pret offered a gluten free Christmas sandwich and the free from sections of supermarkets extended into party food, mince pies and Christmas gifting.
Flexible portion sizes offered smaller households the opportunity to enjoy a variety of Christmas treats and Tesco's offered a double stuffed turkey to please both the sweet and savoury stuffing eaters.
As we approach 2020, it's likely that we will see this all inclusive and personalised approach to Christmas food continue to grow as consumers' appetites for variety continue to grow.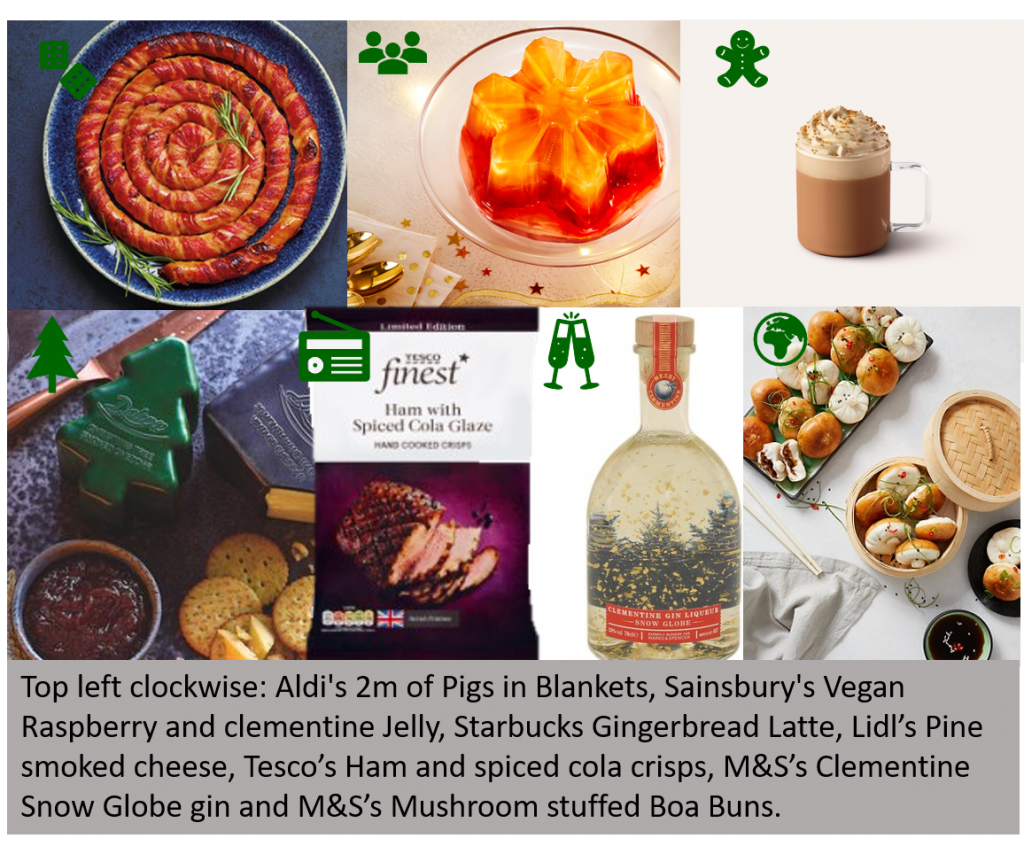 Sugar and…
The classic Christmas combinations of ginger and cinnamon weren't hard to find in 2019 product ranges. Apart from gingerbread houses, Sainsbury's sold a gingerbread village triple layer cake and wensleydale cheese with gingerbread (in the shape of a gingerbread man). Cadbury's released gingerbread dairy milk and you where never far from a gingerbread latte on your local high street.
We think these classic flavours have the potential for growth particularly when paired with seasonal fruits like pears, figs and plums which are likely to become important next winter as we focus on reducing eating out of season to protect the planet.
Dreaming of a Green Christmas
There was a prominent focus on the environment this festive period, the reduction of plastic at the forefront of Iceland's campaign reflecting the 51% of consumers who find the amount of packing on seasonal foods off putting (Attitudes towards seasonal food, 2019 Mintel).
This focus was evident in the flavours which seemed to focus on nature, Christmas tree smoked cheddar (Lidl) and Douglas fir flavoured gin (Twisting Spirits, UK) brought the outside in. While create- your-own kits and recipes for leftovers aimed to reduce waste.
We expect to see this growing concern for the environment reflected in 'snowy' innovation and foraged ingredients like chestnuts in 2020.
A Toast to Christmas
There was a cross category mash up everywhere you looked this Christmas with alcohol flavoured desserts and dessert flavoured alcohols
Classic Christmas flavours also made the move into alcohol, spice flavours featured in duck and Waffle's Yule Mule and M&S's Clementine Christmas Snow Globe was a big hit with VYPR reporting 75% of consumers  would consider buying it. 
We think this innovation around desserts and alcohol is set to continue with the focus on rum as it is set to be 'the next gin'. Read more about Rum here.
Around the World
With more people travelling than ever before the influence from global cuisine trends was apparent this Christmas. We saw twists on Japanese bao buns (Mushroom Stuffed, M&S), the classic Italian Panettone was transformed into a crumb pudding (Morrisons) and Baklava (One of our Flavours of the future) got the mince pie treatment (Lidl). 
We expect to see the continued growth of non-traditional global flavours making their way onto our shelves in 2020. Flavours that will pair well with the classic flavours of Christmas such as Maple will always be a hit as well!
On the Menu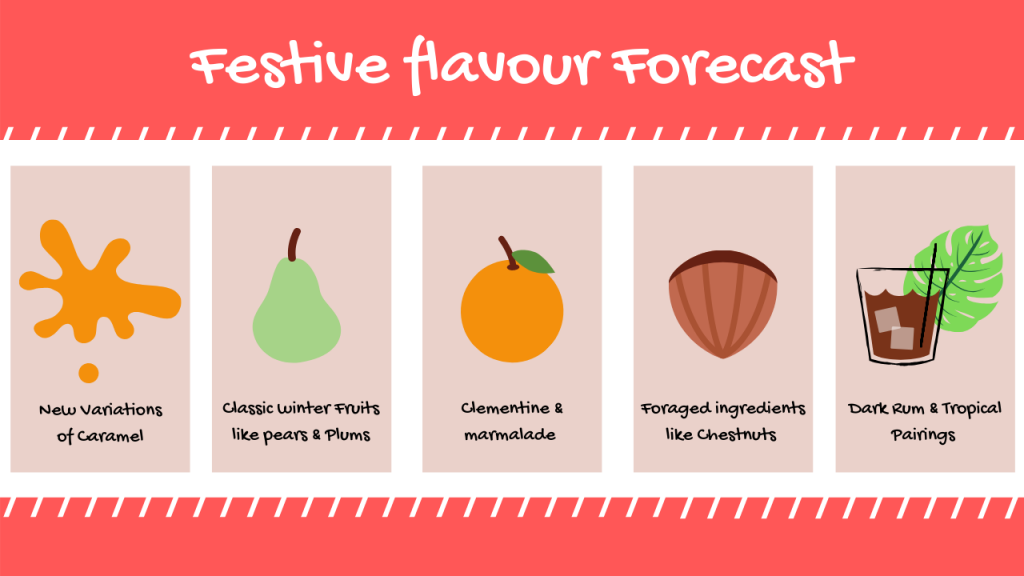 Speak to one of our team members to find out more.
insights